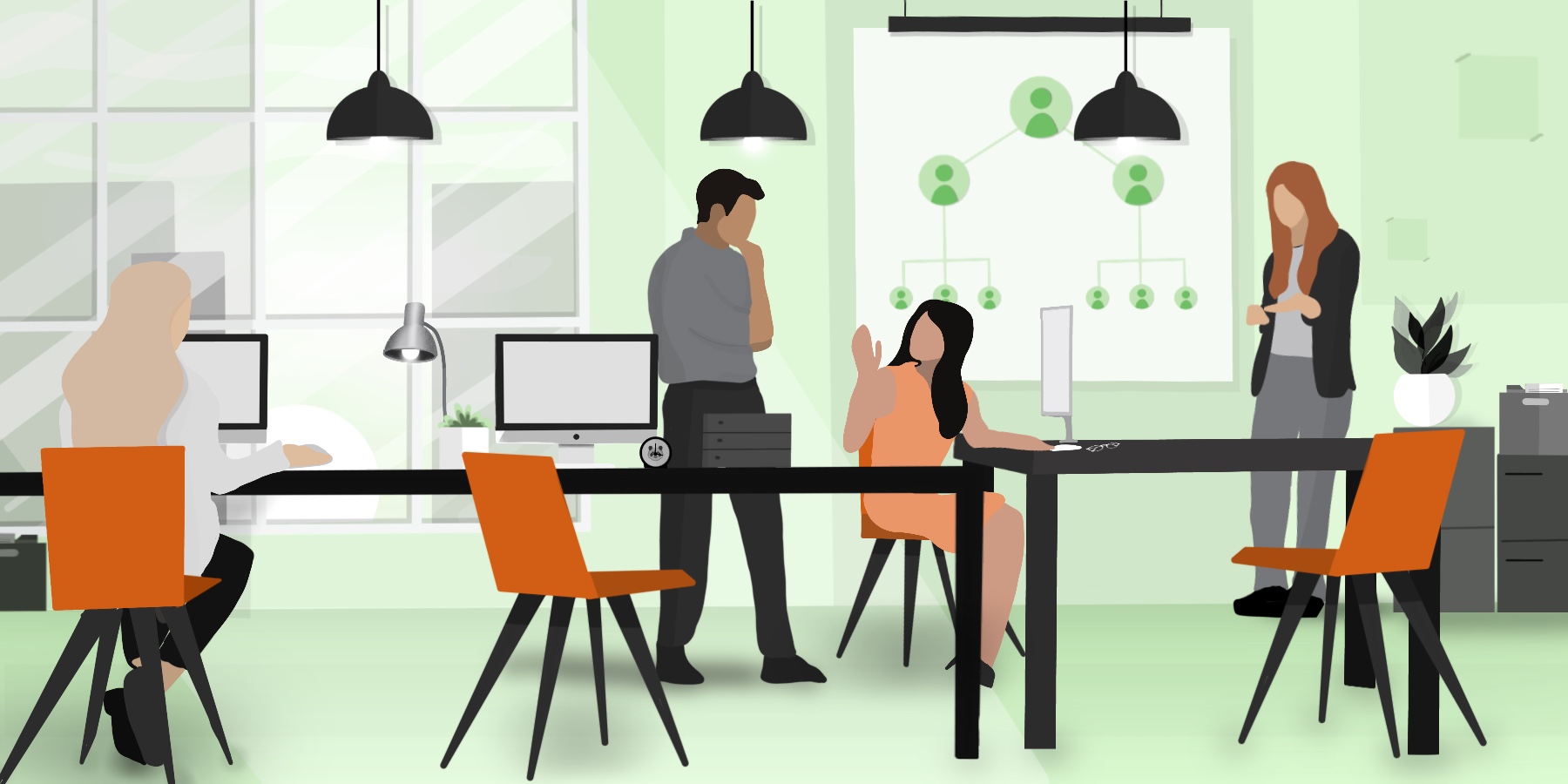 How to Build and Structure a Digital Transformation Team
There's no question that the pandemic has supercharged the speed of work and adoption of cloud-based and remote work solutions. Now, organizations are looking to optimize their remote-enabling tech stack and processes.
From the consumer side, the race is on to enhance digital offerings and platforms as more and more companies pursue five-star customer experiences (both in-store and online).
To enable these improved experiences, and succeed in today's business landscape, you need to set your team up with the right tools, skills, and roles.
In this article, I'll explore how to set your team up for a successful digital transformation.
Table of contents
First, take stock of what (and who) you have
Key roles to consider when building your digital transformation team
Once your team is structured, start planning your digital roadmap
Wrapping up
First, take stock of what (and who) you have
Before undertaking a project with the scale and magnitude of a digital transformation, it's important to understand your current business landscape, what has to change, and why.
Start by evaluating your current team members and their skills. Decide whether you would benefit from external help (new hires) or if you can work with the talent you have and swap roles around where necessary.
For example, you may want to prioritize user experience on your website as you deal with a high volume of traffic. However, you may only have one person, or a very small team, in a UX role. If the goal is a complete digital transformation, you may need to hire additional team members or find an agency to supplement your current team. Don't just assume what is needed; speak with this person or team to find out what gaps exist in their department.
Depending on your foundational team and end goals, your team may change drastically. This can disrupt your company culture, so it's important to make changes thoughtfully and map all changes toward business goals.
Once you've identified those gaps, talk to the department to find out how you can first fill them with internal resources. Ask each department to make a list of both necessary and nice-to-have upgrades. You can also ask if any of your current staff would be happy to fill these roles if developed in-house before hiring out to an agency.
You'll likely need a project manager to navigate these discussions. Taking stock across teams and determining what you need is intense and demands a lot of attention. A person or team who can navigate all of the moving pieces will be invaluable as you do your research and create your digital transformation roadmap. Going back to the UX example, consider the time needed just to find, track, and interview multiple contractors and agencies.
Key roles to consider when building your digital transformation team
Once you've assessed your existing people and skillsets, it's time to start thinking about expanding your digital arsenal. Digital transformation won't happen overnight, so think through which role (or roles) you'll need in place immediately and which can wait until later on down the road.
Here are some roles you may want to think about, as well as how each contributes to a digital transformation strategy.
Chief digital officer (CDO)
As you begin your organization's digital transformation, you'll want to have a chief digital officer. Your chief digital officer will work closely with your chief of data (more on this role later), using data to drive growth and make informed decisions on new digital products, platforms, and services.
The chief digital officer will lead the charge on implementing digital upgrades that will help transform your organization to digital-first. This role will also be crucial for bringing updates and obtaining buy-in from the boardroom, acting as the bridge that brings everyday activities to executives whose focus may be elsewhere.
Chief information officer (CIO)
Your CIO will serve as the executive connector between business goals from the C-suite and the IT innovations necessary to implement technological developments and updates. This role approaches everything from the technical perspective, accelerating the momentum of the transformation.
Because both CDO and CIO roles are essential to the changing business landscape and evolving company culture, some organizations may have a CIO concurrently serving as the CDO.
Enterprise data architect (Chief of Data)
Perhaps the most critical role that your organization may not have before pursuing a digital transformation is chief of data. This executive-level leader is responsible for managing, gathering, analyzing, and interpreting data across the business. Depending on your organizational needs and structure, this role may include the duties of a chief data officer.
Data will be critical throughout your digital transformation. The person in this role will use data gathered from your CDP to inform early decisions and provide evidence of success to key stakeholders. So, it's important to make sure this person is qualified and in place from the start of your digital transformation.
Business processes expert
One of the newer roles to enter the digital transformation landscape is the business processes expert. This role is in high demand as it requires both business savvy and a deep understanding of the technological landscape.
A business processes expert should understand your business's current workflow and identify where processes need to be optimized to enable a digital-forward approach. They may recommend leveraging technologies like artificial intelligence, machine learning, and automation to catalyze workflows for your organization's new digital strategy.
Your business may handle large volumes of customer data, such as purchase and contact history. A business processes expert will likely enlist the help of a customer relationship management (CRM) platform to enable quick access to actionable insights and decision-informing data. If you run an online store, you'll be able to spot popular products and buying patterns that can help fuel your marketing efforts.
Security and compliance specialist
While making big changes to a business strategy involving data collection and analysis, it's critical to ensure you adhere to security and compliance protocols. A security and compliance specialist will be responsible for the security and privacy strategy, ensuring data use meets all legal, privacy, and governmental requirements.
They'll also protect your company from data breaches and security threats. They may, for example, host a live anti-fraud and anti-smishing session for employees and teach them to recognize scams when they come in.
Project evangelists
While this may not be a role you hire for, project evangelists are critical to the internal buy-in of digital transformation. Ensuring that team members are bought into a digital-first strategy is crucial, especially at the leadership level. Project evangelists embedded within your organizational structure will increase adoption of and enthusiasm for your business transformation journey.
Consider adding digital training to leadership development initiatives, and be transparent around the "why" behind digital transformation projects. Your team must understand the importance of the digital experience for today's consumers and how it impacts broader business goals. Project evangelists will help this happen faster.
You may want to select a project evangelist from within each team and decide on a cadence for updating them on your digital roadmap. Each evangelist can then provide updates to their teams in a way that is relevant to their roles and functionality.
Change leader
Like your project evangelists, a change leader helps your broader team see that a digital transformation will positively impact the company. When both culture change and changing business models are occurring simultaneously, it's important to have a change leader who consistently highlights and proves the positive impact of digital transformation.
Digital changes impact both personnel (e.g., reducing workload) and business performance, so having someone champion these positive changes is important for digital transformation success.
Consider how and when the change leader will communicate with the broader team. Perhaps they write a monthly internal newsletter with updates or speak at all-hands meetings. The change leader should also help the company celebrate wins to establish a culture of positivity around digital transformation.
Financial analyst
It's more important than ever that finance works cross-functionally when it comes to a successful digital transformation. By partnering with more technical teams, a financial analyst can help evaluate the costs of new technologies and bring risk management awareness to strategy discussions.
A financial analyst will help evaluate and track different tools from an ROI perspective. While there are other perspectives to consider, having someone look closely at cash flow is an important piece of the greater digital roadmap puzzle.
Cloud architect
Once you have your digital transformation strategy in place, you need people who can execute it and bring it to life. One such function will fall to cloud architects: IT specialists who can develop, implement, and maintain the cloud strategies specific to your new operating model. Because businesses will continue moving applications to both public and private clouds, an ideal candidate will have experience that spans various elements of IT and is familiar with emerging cloud-native technologies.
UX/UI expert
While the roles mentioned above are crucial to the internal team structure, a UX/UI expert creates your end-user experience. This role tends to be thought of as a "nice to have," but in today's customer-centric world, it's a "must-have."
By understanding the business strategy and relevant data, this person or team will create user-centered platforms through which your customer interacts with your brand. Without this role, you could end up with great tech that no one uses because it isn't optimized for the customer (we've seen this time and again). When this happens, ROI on your tech investment is painfully slow.
From the user journey on your website to social media and email, this team focuses on creating a cohesive, intuitive omnichannel experience that will continue to evolve based on data and customer feedback.
Digital experience optimization expert
You'll also want to add at least one person to your team (or train existing team members) to focus on optimization and experimentation. The digital transformation will be ongoing and need constant attention for efforts to keep delivering value.
This role will measure the customer experience (CX) and iterate improvements. If the right foundation of technology and tactics are in place, you can establish a framework of analysis and experimentation that continuously tests and optimizes this experience. With this in your back pocket, you can drive success despite marketplace disruption.
Once your team is structured, start planning your digital roadmap
Once you have the right team in place, as well as boardroom approval, it's time to think about the next phase of your business transformation. Next up: planning your digital roadmap.
Once leadership is on board, and a strategy is in place, it's time to work toward cross-functional buy-in across the organization. Be fully transparent about goals and guidelines and be open to suggestions.
If your data isn't already centralized, different teams will have insights into various aspects of your organization. Getting input from across the organization can help fill in information gaps you may not even know you had.
Your roadmap will outline objectives and deadlines, as well as people and teams responsible for executing and approving items. Consider your digital roadmap a living, breathing document and provide opportunities for team members to share ideas, concerns, and even frustrations.
Here are a few ideas for mapping out your digital transformation objectives and communicating them.
Start by breaking down big goals
You will need to meet many smaller goals and objectives before your team ultimately crosses the finish line. To the best of your ability and with the information you have today, start to break your big goals down, bit by bit, and team by team. Create objectives and identify the projects, tasks, and people that ladder up to them, including timelines for each.
For example, one piece of your digital transformation could be developing a more personalized customer experience. Even this is a hefty goal; one sub-project might be creating a tailored rewards program, another a more technical cookies experience for tracking customer preferences. Work with leadership to determine how specific you want each breakdown to be.
Get alignment by focusing on the customer (and the data)
Uncertainty can be scary, but if there's one thing everyone in your organization will align on, it's the importance of a positive customer experience.
We live in a digital-first world, and customers are used to a personalized, intuitive, and simple experience. If they can't get that from your company, they will look elsewhere. With this idea as the cornerstone of your digital transformation narrative, it will be easier to align skeptics toward your emphasis on digital business.
Sharing data and metrics will also help get—and keep—the team on board. Sharing how a particular customer journey optimization strategy resulted in increased revenue, or how a machine learning recommendation engine increased engagement, will be invaluable in proving the competitive advantage of your digital transformation.
Decide on how frequently you'll update the broader team on the roadmap and who will be responsible for its project management.
Create and maintain a collaborative, cross-functional environment
With all the right people in the right roles, the next step toward ensuring they have what they need to succeed together is a working environment that encourages collaboration and reduces silos.
Here are some proactive ways to approach this:
Think through which teams need access to specific data. How frequently and transparently will leadership provide updates? People must know what to expect and when to expect it, so everyone is informed about the updates they need to do their jobs effectively.
Outline communication channels and frequency between teams. Whether it's a Slack channel, a weekly meeting, a daily standup, an email alias, or a dashboard you can refresh every few seconds, or likely some combination of all of the above, consider how (and with whom) project communication will occur.
Create space for friction and dissent. While a digital transformation is exciting, it's a massive undertaking and will create organizational and cultural changes. Some team members may welcome change more than others, and some changes may elicit frustration.
Create a Q and A once a month specifically for employees to voice anonymous concerns or ask the CDO or leadership team questions. You could also assign a member of the people team (ideally, one who is also a project evangelist) to host a retrospective meeting, where people can vent or share ideas about improving the process for the next project. Dissent will occur, but it doesn't need to send shockwaves through your organization. Plan and create outlets for it proactively.
Know that there will be detours
With different plans in place for both sharing and receiving feedback, along with customer data and stakeholder input, your roadmap is bound to change. Work to create an agile environment where people feel comfortable experimenting and sharing their findings.
Key takeaways
To maintain a competitive advantage in today's digital-first world, many organizations will need a digital transformation. Just as the same strategies won't always translate from analog to digital, it's likely your team will also need to change.
By first figuring out the skill sets you do have, you can begin to determine what's missing and what hires you need to make. With the right team in place, you can begin your journey toward a successful digital transformation.
Clear communication, goals, metrics, and a digital-first culture will help get buy-in. A digital transformation is a huge team effort, so company culture and processes will enable effective collaboration as much as possible.
SUBSCRIBE TO OUR BLOG DIGEST!
Submit this form to receive a monthly, curated digest of our blogs, filled with helpful thought leadership, innovative trends and industry insights, all delivered straight to your inbox.