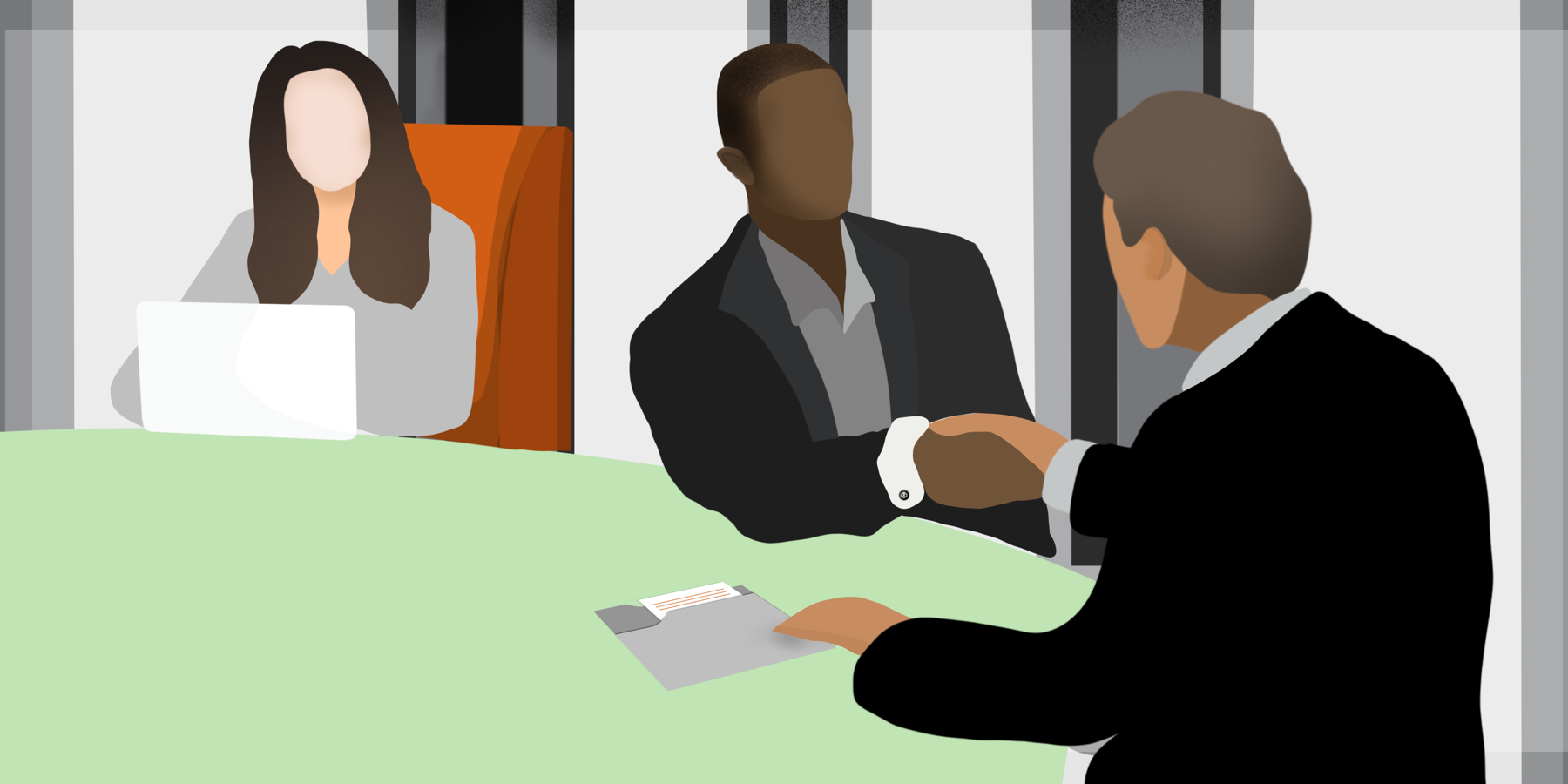 How to Get Boardroom Buy-In For Your Digital Maturity Initiatives
In today's digital-first buying world, customer expectations have never been higher. As a result, companies are increasing their investments into digital transformation in an effort to improve their digital maturity.
As a marketing leader, you may find yourself in a position to persuade stakeholders to invest in digital maturity. While it's not a small or simple task, it has the power to transform your business.
Here, we'll discuss how best to approach stakeholders with a plan and strategy to improve your organization's digital maturity.
Table of contents
Collecting data to make an argument
If you haven't already done so, the first step toward crafting your pitch is centralizing your marketing data. Leveraging data to its fullest (which is necessary for personalization, a key component of advanced digital maturity) first relies on having easy access to that data.
Once you have all your data in the same place, it's time to dive in and unearth the most relevant insights that paint the picture of your organization's digital maturity status.
For example, let's say you deem your business to be in the developing stage of digital maturity, and you're asking for resources to strategize moving to the maturing stage. In the developing stage, your organization is focused on a framework—everything that must be in place to personalize and tailor to users' specific needs.
In the maturing stage, experimentation is crucial. Data from when, where, and how your marketing team has already made strides toward a more personalized user experience—and succeeded—would be hugely helpful in this instance.
You can also share examples of how competitors have optimized their digital customer experience; stakeholders will want to know where your business stacks up against the data you're presenting to them. Let's explore how to do this.
Compile a competitive analysis to show them how they might fall behind
Once you've helped reveal the general landscape and opportunities available to your own organization, it's time to show examples of who is excelling because of their strong digital maturity.
Remember to not only show stakeholders examples of what competitors are doing but why it's working for those competitors. Validation can come in many forms: positive reviews, funding, vanity metrics, and more.
You may not have access to their exact metrics, but you—or someone on your team—likely stays on top of monitoring the competition. Ask questions about your competitor's recent movements, such as:
Have they launched any digital initiatives recently?
How are they personalizing their customer experience?
How are they building awareness for their brand in the digital space?
You can also gather qualitative data—things like reviews or social media comments—to show how they improved their customer experience by investing in their digital marketing strategy. Show how this data has changed because of their digital maturity by providing before and after evidence.
Share success stories to get them excited
There's a balance to strike between demonstrating your organization's room for digital growth and getting stakeholders excited to invest in the initiative. Finding success stories from brands who have implemented what you plan to do can help.
Here are two examples from brands that were successful after digital maturation.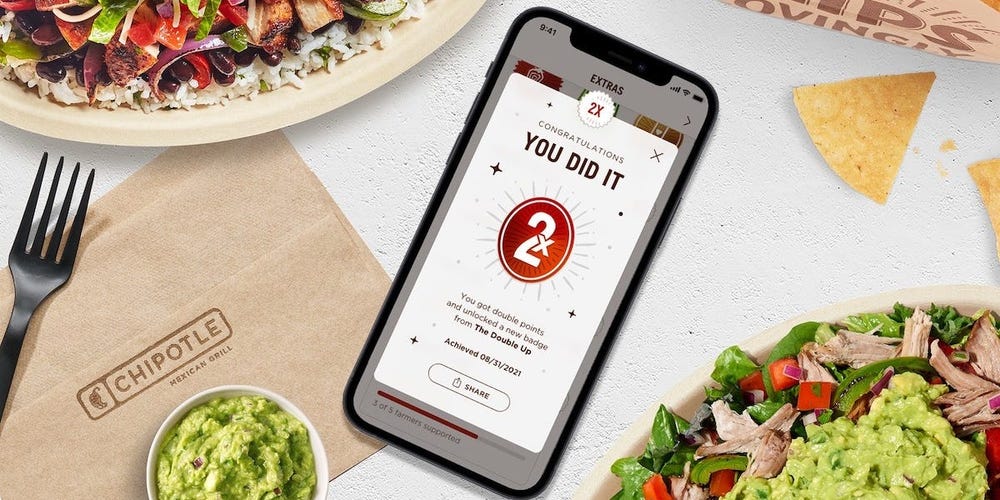 Fast-casual restaurant chain Chipotle upgraded its mobile app to allow customers to more easily customize their orders, keep track of their loyalty program rewards, and collect gamification items (such as badges).
Chipotle's VP of Digital Marketing credits the mobile app and loyalty program for their $2 billion in digital sales in the first nine months of 2021.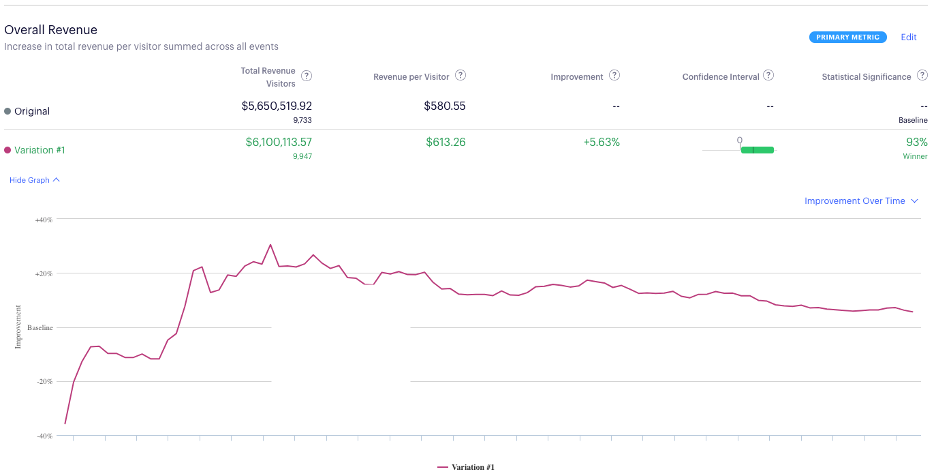 As another example, Smart Panda Labs worked with Wyndham Vacation Rentals to improve conversions so they can achieve their annual revenue goals. We experimented with CTAs in A/B testing to find out what made their customers click. The result was an incremental $3.9 million increase in revenue per year.
As we'll explain later, neither of these changes would have been rolled out overnight. There was likely a lot of building, testing, and learning involved, all of which can be done through marketing tactics we use every day, just on a larger scale.
Once these businesses learned the lessons and implemented changes, what they launched critically improved both their revenues and the customer experience.
Improving your digital maturity strategy won't just affect vanity metrics—it can transform your bottom line and customer satisfaction and retention. Share success stories to show how it's done just that for other brands.
Run pilot projects to demonstrate the impact it can make
No CEO or stakeholder will hand over hundreds of thousands or even millions of dollars based on a hunch.
While you may be proposing a complete tech stack overhaul, modernizing your marketing legacy systems, hiring an entirely new team, or building a new product altogether, try breaking down your big idea(s) into more digestible chunks.
Ask yourself (and, importantly, your team of subject matter experts) questions like:
Where do we already have data that proves a concept, even if on a smaller scale?
What team members or tools do we already have in place that could take one of our ideas to the next level?
Which of our bite-sized ideas can have the most significant immediate impact based on the company's most pressing strategic goals?
When it comes to creating pilot project MVPs for quick learnings, at Smart Panda Labs, we always advise Lean thinking (a build, measure, learn feedback loop).
First, build. Pick a pilot project to leverage as an experiment and create and launch it.
Next, measure. Gather feedback and data from both customers and internal sources.
Lastly, learn. Analyze the data and generate insights that you then use to make adjustments to build the next iteration. And so, the loop begins again.
Each cycle iteration tells you to keep moving forward in the same direction (persevere) or to change course because something isn't working as expected (pivot). Using the Lean model allows you to stay flexible while continually improving as you gradually increase your investment.
In the Chipotle example, this may have looked like first rolling out the updated mobile app in select markets. If they'd launched the new app on the same day across the nation, there would be no room to learn from what worked and what didn't.
Their extreme success is likely because they built, measured, learned, and eventually persevered with a fully optimized implementation.
Testing and optimization
One of the best ways marketers can make an impact quickly is by testing and optimizing content. At Smart Panda Labs, this is something we often do for clients. We aim to find out what their customers want and ensure it's easy to take actions online to get it.
For example, we worked with Related Companies on transforming their digital marketing strategy. We used a content personalization tool called Optimizely to see early results, then tested changes to ensure recommended optimizations lead to measurable improvements.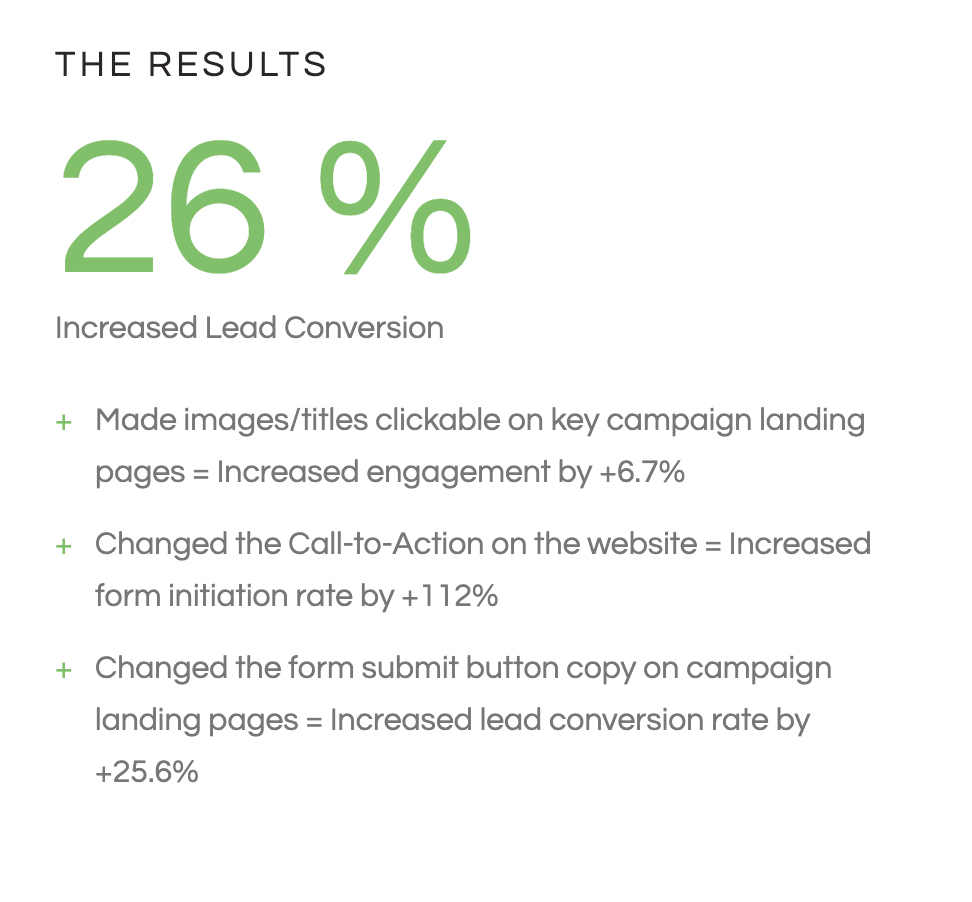 By testing and adjusting assets like images, CTAs, and landing page copy, we increased lead conversion by 26%.
For this experiment, we tested five CTA buttons that acted as a "submit" button and linked to the hotel group's booking engine. Our goal was to optimize conversions by tweaking the button copy. In the end, there was a clear winner, and by changing the CTA to this version, we increased room reservations by $30,000 per month.
Seemingly simple tests can have a considerable impact on revenue and larger business goals, as well as on helping you get buy-in faster.
Presenting findings and data to the boardroom
Depending on your personality type (and the people in the boardroom), what comes next will either be the easy or the hard part. In our opinion, you've already done the hard work in gathering data and crafting a compelling argument.
Now, it's time to use all the data you've collected to make a sound argument, answer potentially tough questions, and get buy-in. Here are some tips for making the most of your stakeholder meeting.
Remember that CEOs aren't marketers
It can be easy to forget just how far we've come in our careers when you work with other marketers on a daily basis. So, make sure to lead with background information and high-level concepts—and have the data to support what you're saying.
This first meeting will likely be about setting the scene and making the argument rather than presenting a fully-fleshed out plan. Of course, be prepared with tactical ideas and execution strategies should anyone wish to dive deeper.
Speaking to the high-level concepts, show how digital maturation will positively impact your organization's future roadmap. Whether from a product perspective, company culture, expansion into new markets, or, of course, revenue. There are so many ways to show how exciting your company's trajectory will be once you've reached a higher level of digital maturation.
Tie your goals back to the business
While you may also present your plan to the customer success team as a means to improve customer happiness or to your marketing team as an exciting up-leveling strategy, the boardroom audience cares about the bottom line.
Be clear about how your objectives align with business goals and priorities. Think through how your digital maturity goals match what the C-suite cares about most, then share how it will improve those metrics (like net profit margins and sustained growth).
In addition to potentially making your business a lot of money, digital maturity allows businesses to pivot faster to meet growing customer demands and market disruption. This can look like faster product improvement, or being able to react to society's changing expectations of businesses when it comes to social and environmental matters.
Aside from the bottom line, what matters to your organization right now? What are your goals aside from revenue?
Maybe you have a huge green initiative or have made serious commitments around another social movement. Maybe your goals are internal, like providing better parental leave or increasing your workforce diversity.
Whatever the specifics, show how the ability to pivot and move quickly will help free up internal resources to achieve these business goals, too.
Be ready to adapt
While you know the ins and outs of marketing and why digital maturity is so important, not everyone in the boardroom may get excited about these ideas as quickly. We've already discussed the importance of data to support your ideas, but even the facts won't always be enough to convince your audience.
The best marketers are flexible, so be prepared to get X and not Y. You may have to choose a few (rather than all) of the great tests you want to try if the budget is smaller than what you've asked for.
Key takeaways
Digital maturity allows brands to pivot quickly, personalize often, and provide a superior user experience across all channels. Of course, accelerating the speed at which your company matures can be demanding on both finances and resources.
Leading with data and showing how you can test and learn before implementing enormous changes is your best bet for gaining boardroom buy-in. Remember to map your digital maturity goals to broader business objectives to show the C-suite how hard a digital maturity strategy will work for them.
SUBSCRIBE TO OUR BLOG DIGEST!
Submit this form to receive a monthly, curated digest of our blogs, filled with helpful thought leadership, innovative trends and industry insights, all delivered straight to your inbox.