SUMMARY
Managed by Vacasa, the largest vacation management platform in North America, Wyndham Vacation Rentals' portfolio includes 9,000+ homes in 50 destinations.
Wyndham Vacation Rentals needed to improve their digital experience, particularly to compete with digital services like VRBO and Airbnb. Partnering with Smart Panda Labs, they optimized their website to improve digital experiences and convert more customers. In doing so, they were able to increase annual revenue by a total of $8 million.
THE CHALLENGE
Facing stiff competition from digital services like VRBO and Airbnb, Wyndham Vacation Rentals needed to modernize its digital strategy and improve its website experience to convert more customers. Even though they were driving a lot of traffic to their site, it wasn't helping them achieve a critical strategic goal to drive revenue growth. Part of the problem was the fact that the website was slow with outdated code. Another challenge was the lack of analytics and user insights.
To understand what hindered digital results for Wyndham and why they weren't converting website visitors into customers, the company brought Smart Panda Labs on as a strategic partner.
We began with a comprehensive audit of the customer journey and an assessment of the tools Wyndham used to gather and analyze customer data. We then blended strategic consulting, conversion rate optimization, analytics, and marketing technology support in developing an action plan for success.
We found areas of improvement by analyzing the entire digital experience – everything from keyword search behavior and email copy to form design and checkout. We focused on pain points and supporting promotional initiatives. For Wyndham, the team experimented with and focused on digital assets for key landing pages, forms, and the shopping cart experience.
THE SOLUTION
We worked with Wyndham on many initiatives to improve conversions and help them achieve their annual revenue goals. A/B testing provided insight into customer behavior while increasing conversion rates by optimizing individual features of Wyndham's digital experience, one at a time.
Experimenting with personalization was key to achieving Wyndham's business goals because it focused on optimizing the experience based on consumer preferences. We created an A/B testing roadmap using the Optimizely experimentation platform, which allowed the team to experiment across product and marketing.
Wyndham's audience was then split and the performance of the A/B variants was measured using the metrics that mattered most to our client:
Conversion rates
Revenue
Revenue per visitor
Engagement
Key features, such as calls to action or images, were tested, optimized, refined, and tested again, establishing an iterative, continuous improvement process. These experiments also placed data at the heart of Wyndham's digital decision-making and were an invaluable strategy that replaced assumptions with real-time information.
In addition to A/B testing, analytics revealed how prospects interacted with Wyndham's site. To understand the patterns that drove prospects to the booking engine, key metrics monitored included:
Site visitors
What visitors did on the site (behaviors)
Which visitors converted
Which conversions drove revenue
THE RESULTS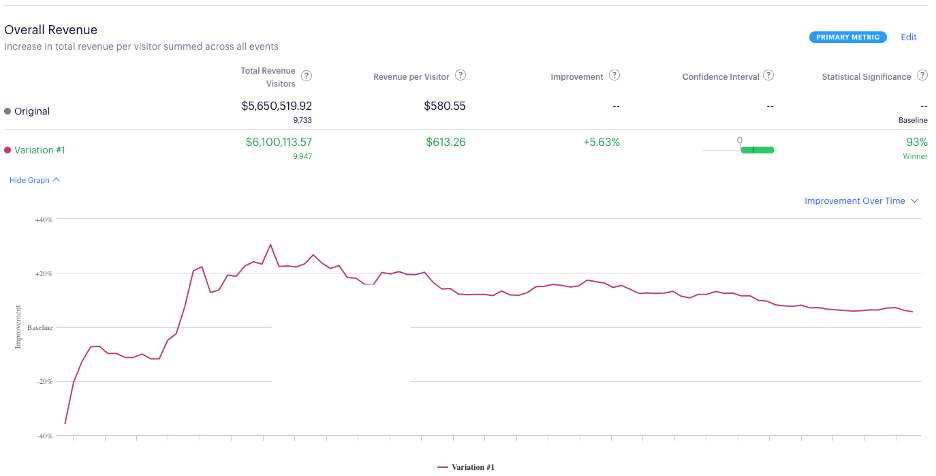 The goal of an experimentation program like this is to create a framework for ongoing iteration. The framework to power iteration is key because within that are learnings that move the business forward. For example, across all experiments in this program, we helped our client learn and grow business:
Increasing unit-to-payment page conversion by 9.5% for all desktop traffic, driving an incremental $4.2 million in revenue per year.
Increasing unit-to-booking conversion by 35% for desktop traffic from people over the age of 50, a target demographic for this company.
Increasing revenue per visitor by 5.63% for an incremental $3.9 million in revenue per year.
Increasing revenue per session by 11% for mobile traffic.
Determining not to invest in a new website development project due to lack of measurable impact from recommended enhancement, saving several thousand dollars in proposed cost.
A major lesson learned from the Wyndham experimentations revealed that optimizing the mobile experience is more important than ever. The mobile experience accounted for 41% of sessions during the experimentation period, compared to 33% in the previous year.
The digital strategies and tactics deployed by Wyndham resulted in an enviable annualized revenue increase of $8M. If you want to generate higher conversion rates to increase revenue without incurring incremental marketing costs, the evidence is clear – get ready to experiment and optimize the considered purchase journey.
Ready for Your Free Consultation?
Complete the form below and we'll contact you to schedule your first free consulting session. We look forward to learning more about your challenges and collaborating on strategic digital solutions.