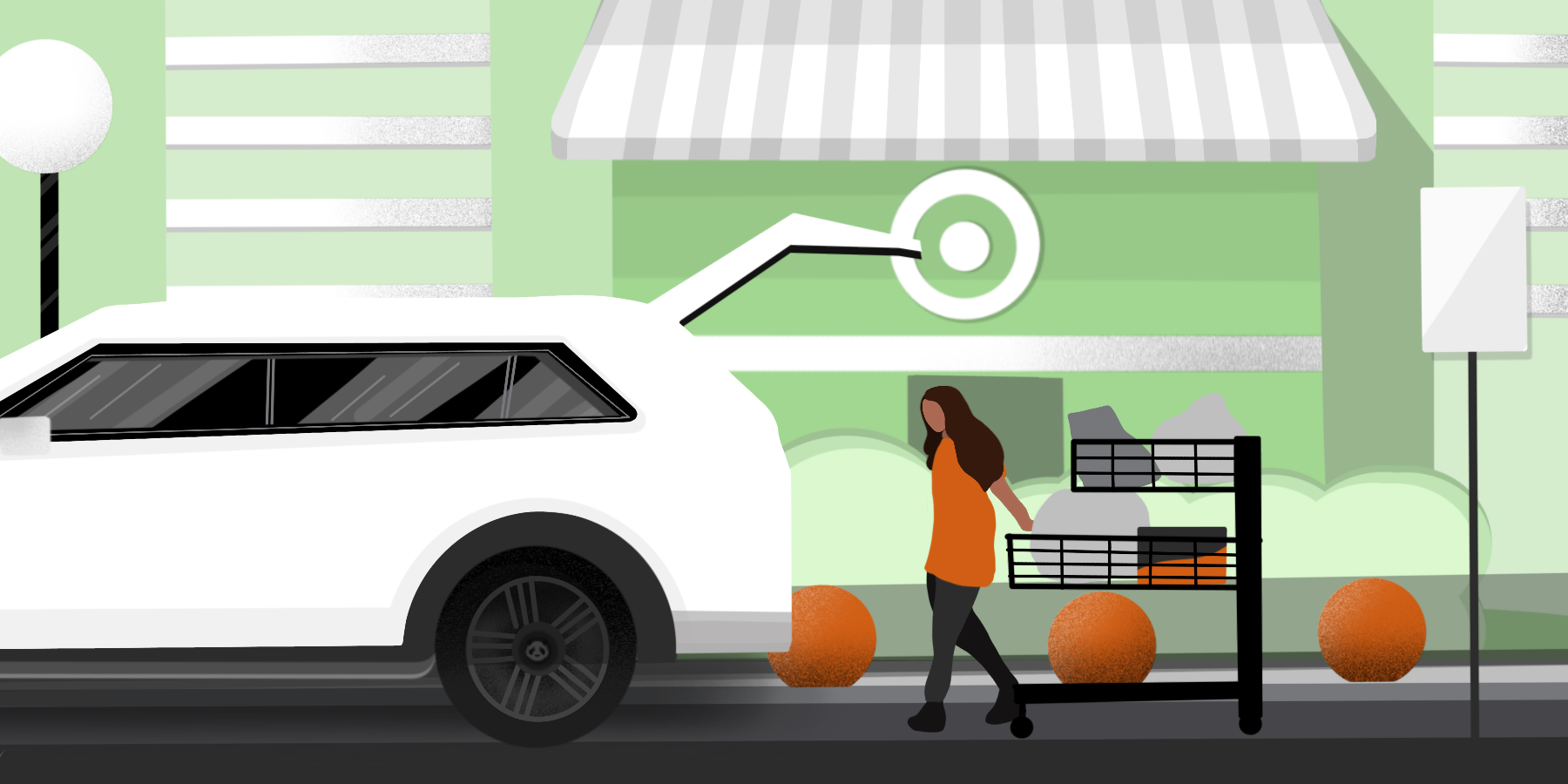 How Target Increased Their Stock Price by 50% with a Digital Transformation Strategy
Today, Target is both a household name and a trusted destination for millions of American shoppers.
But, back in 2013, a serious, widespread data breach compromised the personal and payment information of upwards of 110 million Target customers. The breach resulted in a 40% drop in profits for that year.
This nightmare scenario proved pivotal, as it inspired Target to invest in their digital future. With the start of the pandemic in 2020, they shifted gears once again, reinvesting in curb-side pickup and same day delivery projects they kicked off in 2017.
Let this serve as a reminder to any retailer, large or small, that there's always room to pivot and make a comeback. But critically, why wait for a disaster when you can proactively stay ahead of one? That's why it's so important to begin developing a framework for a modern digital customer experience (DCX) before something bad, like Target's data breach, happens to you.
In this article, I'll share examples of Target's digital strategy—from centering the customer experience to personalized messaging and pandemic pivoting—that are bound to inspire any customer-centric marketing team looking to level up their DCX.
Table of contents
Pivoting with the pandemic
Last year, due to the pandemic, a record 12,200 stores closed, according to commercial real estate firm CoStar Group. Those who survived and thrived strategically and quickly pivoted to serve a consumer not keen on leaving their home.
In other words, they went through a digital transformation. A digital transformation allows brands to serve customers personalized, intuitive, and seamless digital experiences. Even when not on their computer (for example, when a customer is picking up an online order at a physical Target store), the customer's omnichannel experience is easy and efficient.
Target's digital transformation in particular allowed them to serve their customers sensitively, efficiently, and strategically.
Here's an example of how Target tailored its digital experience to seamlessly fit the circumstances many retailers were struggling to navigate at the start of the pandemic:

This friendly and inviting banner shows customers that it's still as easy as ever for them to shop (and follow pandemic guidelines) at Target. Once they find their item(s), they can choose between three methods for receiving their order: Pickup, Delivery, or Drive Up.
To leverage Drive Up, or the ability to place an order, drive to Target, and have your items delivered to your car, customers need to download the Target app. Target was incredibly clever when making this decision, as it allows them to boost app downloads, collect customer data, and thus provide highly personalized and relevant experiences and offers.
Of course, it's not enough just to encourage customers to download your app; you need to give them a reason why. By downloading the app, users gain access to app-only features, such as the ability to apply your savings to your purchases when you pay through the app, and, of course, the option to order with Drive Up, use real-time check-in, and sit back and wait for your items to come to you.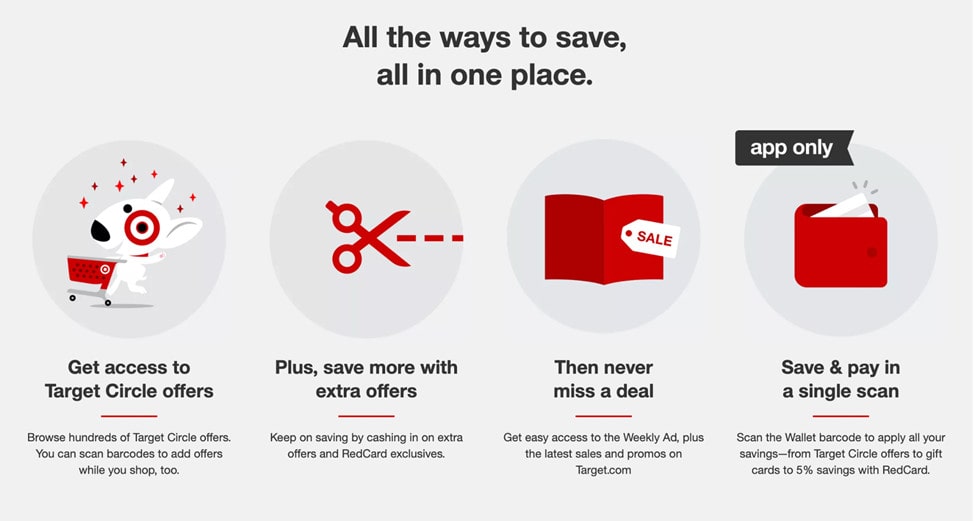 Critical to Target's (and any) digital transformation is understanding the customer journey at every stage. It's also crucial to be able to adapt to changes in the customer journey as new circumstances arise.
With the pandemic, more customers were hesitant to shop in-store. Target needed to immediately adapt and include options that enabled customers to shop easily and efficiently without entering a physical storefront.
Of course, these changes would be impossible to implement overnight. Because of Target's 2013 data breach and subsequent dedication to its omnichannel experience and software development, much of the infrastructure was in place to make it simple for shoppers to buy online or pick up in person. Nevertheless, their commendable emphasis on the customer journey allowed them to quickly react when that journey drastically changed.
What has driven Target's success so far?
As mentioned, Target's success began before its pandemic pivot. It's important to note that, especially after the data breach, Target could no longer afford to wait to digitally transform, despite the investment needed.
But let Target serve as a cautionary tale—not everyone would survive a catastrophic event like Target's data breach, let alone thrive after one. For this reason, we encourage businesses to think of digital transformation as foundational to a successful future, rather than a "nice to have."
Target needed to move forward in maturing digitally by developing a framework for a modern digital customer experience. Many brands can relate to feeling limited by an existing infrastructure, not to mention the sticker shock executives may feel when they understand the time and money necessary to rebuild it. But if Target shows us anything, it's that these investments can, and likely will, pay dividends in your future success.
Let's take a look at just what has driven Target's success to date.
Investing in employees
Target brought its IT work back in-house after recognizing that outsourced IT projects were costing them a fortune, often ran late, and were of poor quality.
Additionally, Target provides higher wages and better training than competitors. They raised their starting wages three times in three years, expanded family-focused benefits, invested heavily in training and career-building programs and offer agile scheduling to fit individual needs.
The long-term vision here is to be a sought-after employer, and therefore have more demand for positions so they can select and hire the best talent. This in turn has a direct impact on customers, as happier employees are often highly motivated to provide a positive customer experience.
Supply chain optimization and operations
To offset the cost of higher employee wages and better training, Target increased efficiencies throughout their supply chain. By supporting the warehouse team with robotics and artificial intelligence used to sort millions of products by store and aisle, Forbes reports that this enabled stores to avoid "out-of-stock" situations.
With machines focused on sorting, humans have time to do what they're best at—creating connections with customers and providing an outstanding experience.
Another operational strategy Target has executed well is small store formats. You may have shopped in a City Target, which is often smaller and stocks only items deemed essential to urban life.
Scott Timpani, store team leader at Target's University Center, University of California Irvine location, explains one example:
"During the school year, about 10,000 students each day cross a pedestrian bridge that starts on campus and ends a few steps from our back entrance. Knowing these guests are often heading to class or simply in a hurry, we have four self-checkout kiosks next to the doors so they can quickly complete purchases and be on their way. And for guests who have more time to spend, we've created a cozy seating area near Starbucks complete with outlets for charging their devices."
Once again, Target shows the importance of deeply understanding the customer journey. And it's a smart tactic—by embracing young adults away from home for the first time and giving them the items they need, when and how they need them, they're working to create life-long loyal customers.
Vendor collaboration and strategic partnerships
Target has done an amazing job of introducing its customers to new products thanks to partnering with direct-to-consumer (DTC) brands. Many of these smaller brands, such as dog wellness startup Jinx, come with loyal followings. Jinx's loyal customers get to shop their favorite items with ease at Target, and both brands get to grow awareness by expanding into new markets.
In addition to working with thoughtful and strategic vendors, Target focuses on customer feedback both in the design process and in selecting brands to work with. Through focus groups and creative apps, the design team can build products and initiatives that delight customers while fueling growth and revenue.
Another strategic partnership that has fueled growth at Target is Shipt, which the retailer acquired in 2017 for $550 million. The purchase of this online same-day delivery platform accounted for 80% of Target's digital growth in Q4 2019. Because of Target's newly optimized IT team, the integration of the technology was efficient and able to show results and sales growth right away.
Location(s)
With 1,900 stores nationwide, there is a Target store within 10 miles of the vast majority of the US population. This investment in physical stores gives Target a competitive advantage over retailers focusing either solely on a digital strategy or that don't have many brick and mortar locations.
As with previously mentioned City Target and Life on Campus stores, not only is nearly every American located near a Target, but many are conveniently located to stores relevant to their needs.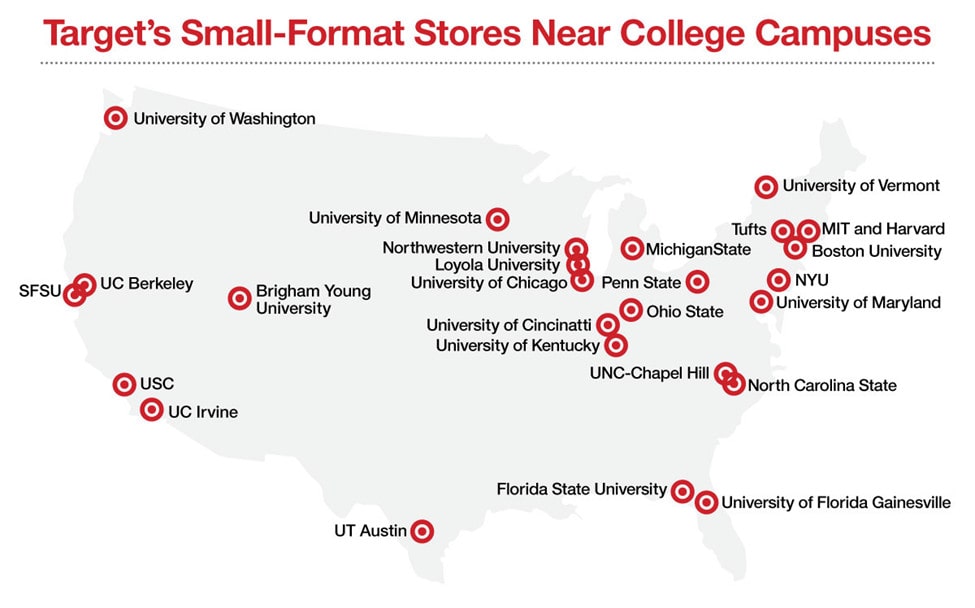 Target makes it easy to be a loyal customer
Through rewards, easy navigation of top discounts, and special offers, Target's digital channels make it easy to become a loyal customer.
How it works: Target Circle and RedCard Exclusives
Just like Target unlocks curbside pickup when you download the app, customers must first sign up for a Target.com account before they're able to join Target Circle. The loyalty program features 1% earnings, exclusive deals, community support, and a birthday gift for members.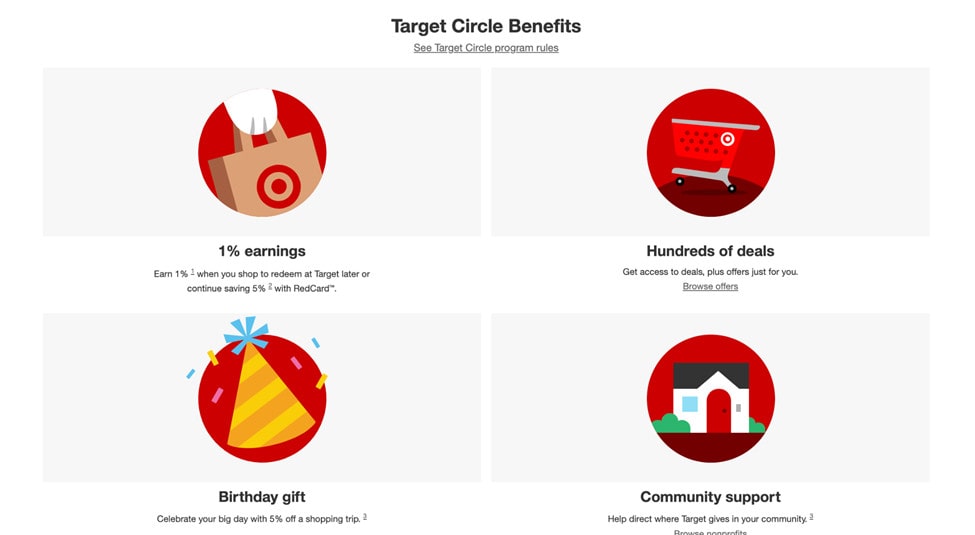 The circle membership feels almost gamified, with chances to earn at nearly every touchpoint. Members can earn points by scanning their mobile number in store, shopping with their Target.com account, linking their RedCard, or scanning a Target receipt.
In addition to Target Circle, Target has its own credit card, with its own set of benefits (of course, you get the most benefits when you have both).
Your RedCard provides you with a 5% discount every time you shop at Target (including in-store Starbucks locations), free shipping, even more exclusive offers, and an additional 30 days for returns.
How it shows up
This sizable, proudly displayed focus on customer loyalty, as well as gifts and rewards, would be enticing for just about any shopper who regularly shops at Target (or who doesn't…yet!).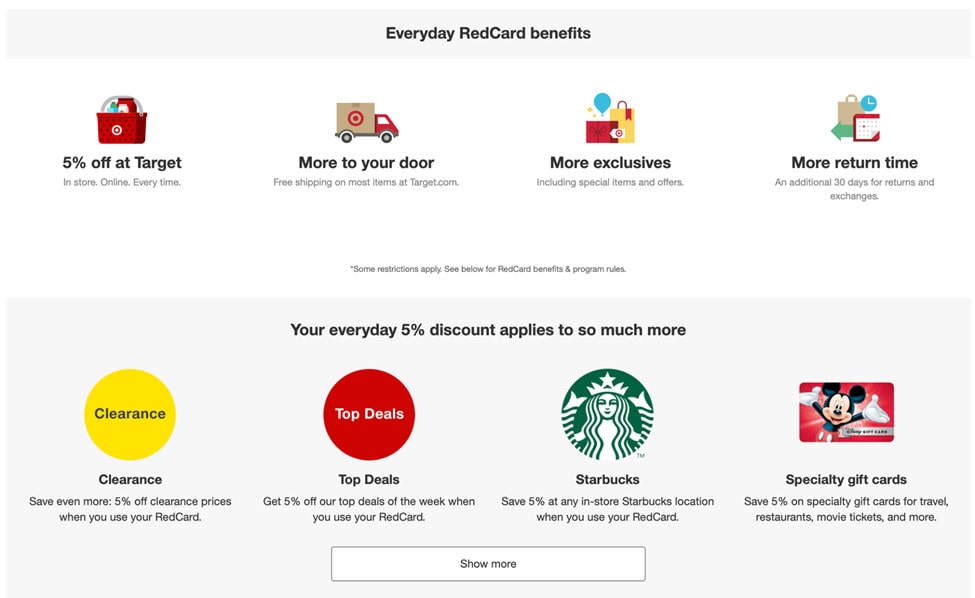 On all of its digital channels (including its e-commerce site, email, and social media), Target makes it easy both to identify what there is for loyal customers to gain, as well as join in and reap the benefits.
Additionally, you may notice that all of Target's messaging caters to the customer. This may sound obvious, but as marketers, we know it's always more important to tout the benefits over the features. Target doesn't just tell us why we should become loyal customers, it shows us time and again how becoming a loyal Target shopper will benefit our lives.
On the RedCard landing page, they feature two common pain points that customers face: feeling overwhelmed by how much they spend on groceries per year, and being hit with tons of expenses for a newborn:

By stating exactly how much money you can save in those two scenarios with their RedCard, customers feel like their experiences are taken into account. They feel understood, relieved, and ready to save.
What's next for America's favorite big box retailer?
Target has a lot of momentum, and I don't see it slowing down anytime soon. I mentioned earlier how robots have enabled faster picking and packing, keeping shelves stocked and employees focused on the customer. But that's not the only way robotics and machine learning (ML) will impact the brand's bottom line in the future.
Using predictive analytics, Target is able to forecast demand and in-store traffic. As Target CIO Mike McNamara explained to diginomica, "We've always had reasonable statistical models in the past, but ML just allows us to become increasingly sophisticated. I don't know an exact number, but probably about 20% of our replenishment products are through some new ML models that we've created."
In addition to artificial intelligence, customers may soon be receiving their Target orders even faster. Chief Operating Officer John Mulligan recently announced that new distribution centers will be constructed on each US coast in 2022.
Key takeaways
Target has made an impressive amount of progress in the eight years since its security breach. Not only did it overcome every retailer's worst nightmare, but Target used it as a catalyst for digital transformation and omnichannel success that not even a global pandemic could shake.
In maintaining a customer first approach to its entire omnichannel experience, Target has excelled at gaining and retaining customer loyalty. I'm excited to see what's next for the retailer, and I believe there's much for our customers to learn from Target's past success, as well as what the future holds.
Whether your company is looking to improve digital sales or automation, building a roadmap, updating your business model, or striving for optimization or differentiation in a different way, there's something Target can teach just about every retail business.
SUBSCRIBE TO OUR BLOG DIGEST!
Submit this form to receive a monthly, curated digest of our blogs, filled with helpful thought leadership, innovative trends and industry insights, all delivered straight to your inbox.