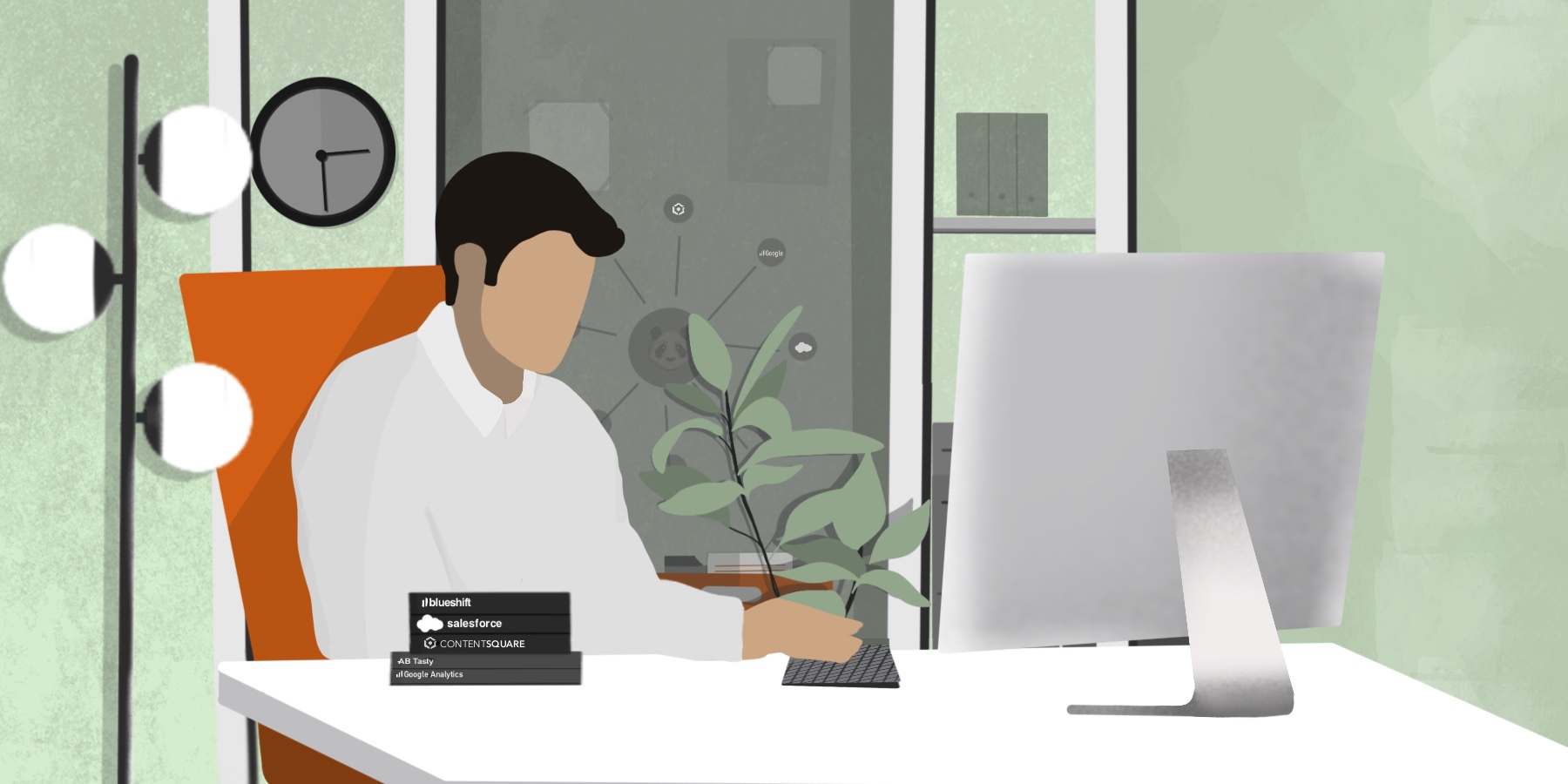 How to Build A Martech Stack in 2021: The Complete Guide
Your marketing technology stack (martech stack) is a group of technologies used to prepare, conduct, and track your marketing activity.
Combining various tools allows you to organize and streamline your marketing strategy and create more purposeful campaigns and user journeys.
But with so many on offer, building a collection of effective marketing technologies in 2021 is not as easy as it seems.
To navigate the process, it's important to understand exactly how your stack benefits your business, and how to ensure you leverage your marketing tools to their fullest potential.
Table of contents
Key trends for 2021
The unique environment we find ourselves in during 2021, thanks to the ongoing COVID-19 pandemic, brings with it a particular set of trends.
For marketers, these afford both benefits and challenges. Let's explore four key trends in more detail:
Post-pandemic digital dependence
The impact of the pandemic increased reliance on digital tools both for businesses and consumers alike. For marketing teams, this presented a new challenge—the need to reach audiences in a socially distanced world.
Suddenly, teams had to find ways to operate and remain efficient from their bedrooms, kitchens, or kids' playrooms.
Businesses already operating modern technology bundles experienced smoother transitions. Others found themselves abruptly faced with the need to digitally transform.
Top Tip: We may be biased, but as digital transformation was already on the rise (and has been given a 10-year speed boost thanks to COVID-19), prioritizing and investing in the digital experience now will benefit your business in both the short and long run. Read more about how and why in our guide on how to accelerate the digital transformation process.
The rise of no-code tech
It is due to this newfound digital dependence that we've also seen a rise in no-code tech.
By removing the need for coding skills to effectively utilize martech tools, a powerful digital stack is now accessible to even the least tech-savvy marketer.
For example, you can use tools like Zapier to 'open up' APIs which allows almost all marketing tools to integrate and speak to one another.
This means that with the adoption of just one platform, you can organize and consolidate all your channels.
Improved influencer marketing platforms
The influencer marketing industry is set to hit $13.8 billion this year. However, this popular marketing channel remains in its technical infancy.
Because of this, we're seeing an increase in improved influencer marketing platforms and agencies. For example, in 2019 there were an additional 240 alone.
This is reducing the difficulty for in-house marketers to find influencers, but since that remains the most significant challenge, we can only expect offerings to grow even further.
Therefore, incorporating an influencer marketing platform into your martech landscape is crucial to help you take advantage of this channel.
A focus on personalization
The benefit of the online space being flooded with customers is that marketers have a wealth of data to help inform initiatives and strategies.
This helps you to produce more relevant and effective campaigns, which is a positive.
On the flip side, increased personalization comes with heightened consumer expectations. As customers now expect to see unique and personalized content, you'll be at a competitive disadvantage if you don't follow suit.
Truly relevant campaigns are not only based on audience data, but also a well-curated and optimized digital customer experience.
The right marketing automation tools in your stack should help you to achieve personalization effortlessly.
They also make it easy to automate personalization, such as using features like merge tags to address email marketing recipients by their names, or segmentation based on interests and preferences.
The benefits of adopting a martech stack
An effective collection of digital marketing tools afford your business opportunities to:
Create data-driven and cost-effective campaigns
Technologies within your marketing technology landscape help you deliver data-driven and cost-effective campaigns.
This is important because it helps you achieve that highly desired personalized focus. After all, you need customer data to understand exactly how to customize your communications.
In turn, your marketing processes are more cost-effective since you're able to budget more intelligently. You can achieve this by directing spend towards initiatives with proven potential.
For example, you can use analytics tools like Google Analytics to see which campaigns are driving traffic to your website. Based on this visualization, if it turns out that your main source of referral traffic is different than expected, you can redirect a corresponding percentage of your platform spend based on these key insights.
Improve efficiency and experience through automation
Marketing automation is a key element of many technologies that make up your stack. It helps you operate more efficiently and constantly tailor your user experiences.
Consider this example of how your martech can automate your multi-platform management:
Incoming messages from social media can be automatically assigned within your digital marketing team without the need to find, delegate, and respond to messages on each profile.
To do this, simply use tags to tell your dashboard what keywords or types of contacts should be directed to particular team members.
Beyond this, you can even automate the follow-up itself by collecting frequently used terms to trigger simple responses.
Automation also improves the customer experience by helping to provide personalized touchpoints. As such, you can automate tailored content by providing bespoke experiences based on the interests of specific audience segments.
For example, if you choose an email technology that allows you to deliver specific content to users based on their actions you can:
Trigger emails to users that have abandoned their online shopping cart.
In the email, you can remind them of their intent to purchase and provide an easy link back to the action.
You can even include further incentives to buy such as a free shipping offer.
With automation, you remove the need to send many emails manually as your funnel is constantly working to move your customers along their personalized journeys.
Show up where your customers are
Brick and mortar consumerism is dwindling. Moreover, even for businesses with tangible locations, the customer journey now often begins online.
Therefore, whether your purchase point is online or in-store, social management tools help you target, reach, and inform your prospective customers about your offerings.
With the right tools in your martech stack, you have better insight and access to your ideal customers and can connect the dots between screen and door.
How to build a martech stack
Building a successful marketing stack means designing an effective decision-making process and selecting the right tools for your business goals.
Let's explore the five steps needed to evaluate, adopt, and implement new marketing technologies.
Step 1: Internal decision-making
Get clear on the people and processes in your decision-making early on.
This helps you develop a clear roadmap and ensures that all involved are adequately informed—resulting in stronger buy-in.
Allocate team members to draw up evaluation criteria for each tool
Assign those that will use tools most regularly to provide feedback
Confirm who will decide on a shortlist of tools and how they will be ranked
Provide key information on benefits, pitfalls, and pricing to the final decision maker
Once you know how decisions will be made, keep track of the details you need to gather to support the process.
The information you present at the boardroom level should include:
Cost-benefit analysis
Goal alignment
Growth potential
Staff impact
Step 2: Defining your core tools
This helps to stave overwhelm which could lead to signing on platforms you won't actually use (or will go underleveraged).
Instead, understanding your core technologies means you can easily see how each one fuels the achievement of your goals.
Separate your core marketing tech tools into three categories:
Reach – how you find and contact your audiences
Engage – how you relate to your audiences
Convert – how you turn your audiences into customers
Let's explore the types of tools that fit into each segment.
Tools for reach
Without the right tools, reaching your audiences is much more difficult, if not impossible. Look to include:
Analytics platforms that allow you to interrogate data to find where and how to reach audiences
Audience targeting that empowers you to act on your analytics results to improve lead generation and customer retention
SEO and keyword tools to help you understand exactly what your audiences are looking for
Paid search provides the opportunity to stand out from your competition and experiment with messaging through A/B testing
Tools that engage
After reaching your audiences, you must engage them in a meaningful way by providing information and incentives.
Your stack helps you do this through the following tools:
Social media dashboards help you streamline multiple social platforms in one content management system where you can create, schedule, and review
Customer relationship management (CRM) where you can store information on a platform like Salesforce about your customer journeys and progress people through your funnel
Online customer service can automate and personalize your responses through chatbots and instance reply functions
Email client to build automated email touchpoints with your audiences to engage them with your brand
Survey tools to create an interactive user experience and learn more about your audiences
Tools for conversion
Now it's time to convert audiences into customers. That last push across the line isn't always easy.
The following tools help you simplify and target the process for better results:
Experimentation platforms like ABTasty and SiteSpect allow you to test various user journeys, analyze the results, and consistently optimize the user experience based on your findings
Messaging/live chat makes it possible to be available 24/7 (and in real-time) to help customers make a decision with key information and speedy guidance
Review tools to gather positive reviews from your customers and help encourage new leads
E-commerce management to keep track of and process your customer sales data in one place
Personalization to customize the user experience through personalized order confirmations and tracking options
Step 3: Designing your stack workflow
As well as understanding those involved at the decision-making level, before you onboard or roll out new tools, you need to design your workflow.
This helps you to avoid confusion, increases the chances of buy-in from your team, and gives you the best chance of success with your implementation and ongoing use.
To do this, ask yourself the following questions concerning your team:
Who needs to use each tool in your stack currently?
Are they the right people?
Are there others whose roles the tool improves?
Who should take ownership of tools, or tasks within them?
Do you need to bring in external support?
Outlining these considerations helps you build a sustainable workflow for your tool.
Top Tip: To learn more about how to identify what your martech tech stack is for, who will use it, how to use it, how it integrates with your existing systems, and how you will properly manage it on an ongoing basis, read our guide on how to build processes around new marketing platforms.
Step 4: Selecting the right technologies
Choosing the right technologies for your stack can be difficult because competition is rife.
To make your evaluation process easier, determine your must-have and nice-to-have features.
Find these by considering:
What actions you could automate
What KPIs you're delivering against
Who and where your audiences are
Once you've prioritized what you need in your stack, you should also weigh up the pros and cons of going with one connected series of technologies, or diversifying between providers.
One cause for comparison is integration. Tools from a single vendor are much more likely to have integration built-in as standard.
However, this may mean that you miss out on capabilities not included in your pre-built stack.
Choosing tools from a variety of providers, on the other hand, allows you to select based on very specific and possibly niche requirements.
Even if you go with a connected series, it's unlikely that your stack won't need external data points, such as from your CRM, to supplement it.
But you will be dealing with disconnected customer service, as opposed to the convenience of one support hub.
Understanding your priorities when it comes to tool performance will help you decide which approach is right for your business needs.
Step 5: Future-proofing with effective re-evaluation
Although the tools on offer are evolving every year, endeavor to build a martech stack that is future-proof (or at least as solid as one can reasonably be nowadays). After all, with so many new tools, updates, algorithms, and trends popping out of the woodwork in the blink of an eye, we can only be so prepared.
The steps we have outlined previously will help you get most of the way there. Then, it is a case of implementing meaningful re-evaluation at key stages.
To do this, map out points of assessment. For example, these could be quarterly, annually, or following major marketing campaign periods.
In your re-evaluation, refer to your goal roadmaps and assess the performance of your tools according to:
Do your tools overlap on functions?
Are you underusing any tools that you could optimize?
Do your staff need top-up training and do they like using the tools?
Can you still automate where you need to?
Are any integrations broken or missing?
Are there any data gaps in your reporting and analysis?

These questions help to show any improvements or course corrections for your stack, including where you might consider changing a tool.
Challenges to overcome when implementing a new martech stack
Prepare for potential challenges after building your ideal martech stack by outlining a strategy for long-term success.
To do this, keep integration and scale in mind. Managing the implementation process, and maintaining your stack will help you achieve both.
Setting yourself up for success with effective implementation
Two of the biggest challenges in implementation are integration and training.
It's important not only for each of your tools to communicate with each other but also for your staff to feel confident using them.
For successful integration make sure you:
Outline which tools need to integrate with what
Who can make that integration happen
What order integrations need to happen in
With your martech stack up and running it's now important to support your team to positively adopt the new tools through adequate training.
To do this, utilize webinars, handbooks, walkthroughs, and service desk tickets to:
Familiarize everyone with the workflow plan
Train everyone on daily and potential tasks and issues
Indicate how to access further support
Gather feedback from your team on an ongoing basis
Maintaining your martech stack
As your stack settles into your routine, it's important to maintain your tools to keep them up-to-date both in technological terms and in line with your business goals.
Doing so means that your stack runs smoothly and supports your business growth at scale.

To achieve this, make sure you know when tools need routine upgrades and assign authorization to someone in your team to manage this process.
In addition, have a system in place for introducing integrations into your stack, such as if you need to add or change something or make alterations to how information feeds into it (like from your email client).
Regular maintenance reduces the likelihood that your business will outgrow your stack.
Avoiding data overload
Initially, building a stack might feel complicated not only because there are so many options to choose from, but also because those you do take on all have their own data source.
This is overwhelming because not only is there a lot to look at but there is a lack of consistency in how the data is organized.
Therefore, it is much more difficult for you to efficiently categorize and compare your information to inform meaningful decisions.
However, a well-curated stack can help you to avoid data overload by organizing relevant information for you.
Make sure that you're not onboarding tools unnecessarily. For example, consider if you have multiple tools that can perform the same function and if one can replace several others.
When you're confident in your tool choice, include a tag manager. This helps to distribute tags on your website from one place, minimizing the need to code each time.
As a result, you trigger and collate key data from a central hub, thus reducing data overwhelm.
Key takeaways
Optimization of your martech stack results in data-driven marketing efforts that help you target your goals more efficiently.
A wide range of tools and technologies are available to marketers in 2021. By defining the purpose of your core tools into those that reach, engage, and convert audiences, you set the building blocks in place.
From there, creating strategies to re-evaluate the success of your stack as your business grows helps to future-proof your systems.
SUBSCRIBE TO OUR BLOG DIGEST!
Submit this form to receive a monthly, curated digest of our blogs, filled with helpful thought leadership, innovative trends and industry insights, all delivered straight to your inbox.