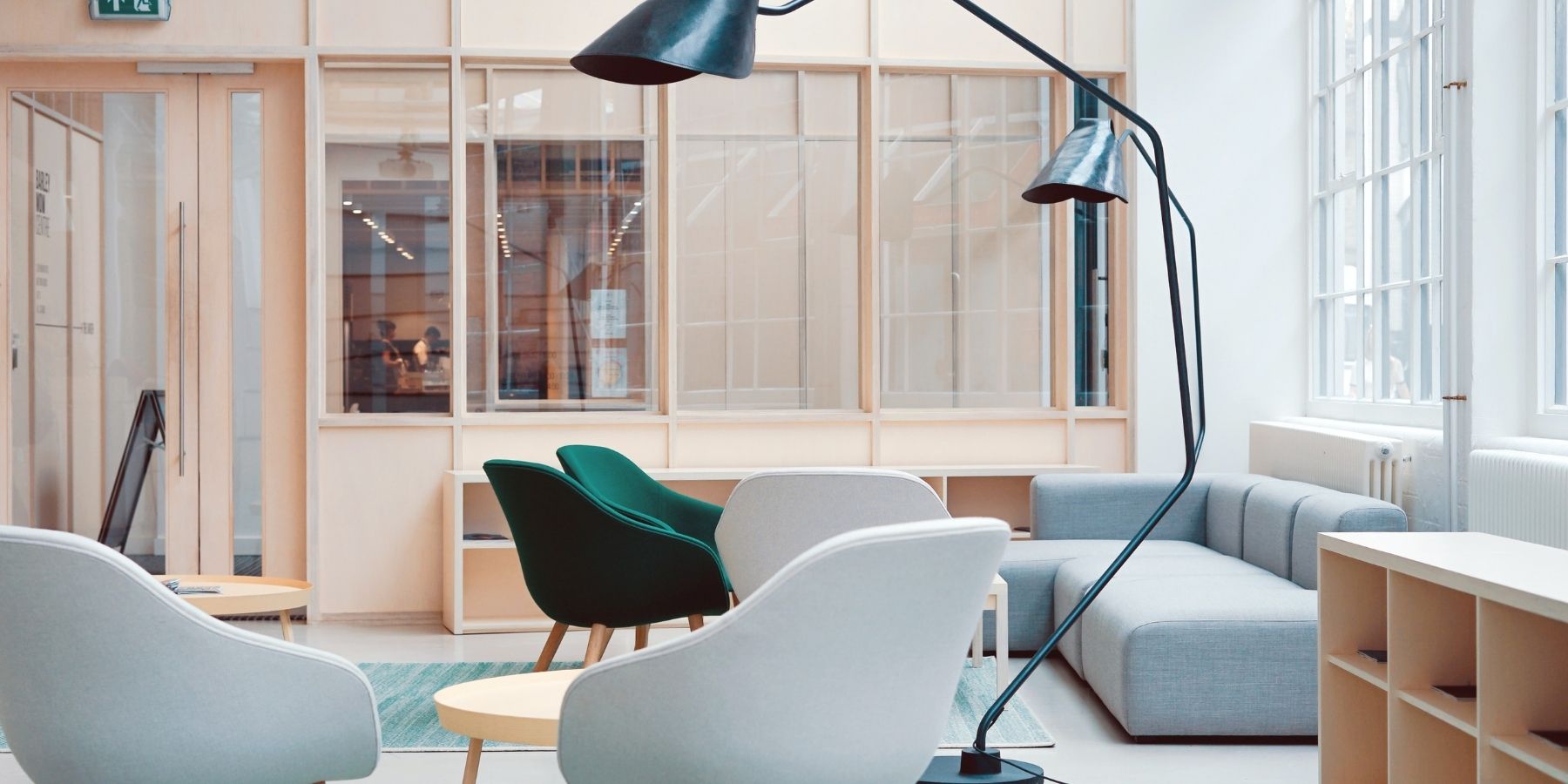 How to Expand Real Estate Lead Generation Through Digital Transformation
In 2019, 90% of real estate firms had websites, proving that digital real estate industry experiences were already on the rise pre-pandemic. That said, the COVID-19 economy has highlighted the importance of empowering potential clients with flexible access in the modern home hunt.
As a result, simply having a real estate website and basic web presence is no longer enough. Rather, real estate firms must ensure that their corners of the internet are actively generating qualified leads and converting them into buyers at scale.
While property listings are key, there's so much more to be achieved in lead generation with the right sales and marketing activity, as well as a strong digital experience.
In this article, we'll explore the benefits of the digital experience for driving lead conversions. We'll also outline a five-step strategy for optimizing real estate lead generation in 2021.
Table of contents
How a well-optimized digital experience contributes to effective real estate lead generation
Optimizing your marketing processes to elicit more property conversions won't happen overnight. By nature, high-cost transactions claim longer lead times.
The best real estate leads come from a well-optimized digital experience built to nurture each lead at every stage of the consideration journey. In other words, you must provide both buyer leads and seller leads with everything they need, exactly when they need it, in order to help them make the right purchase decision.
Ultimately, meaningful conversions that engender trust and spark relationship-building are the end goal.
Thus, a properly curated customer journey that removes barriers to decision-making, preempts objections, and provides a seamless experience is the vehicle that will help you comfortably move prospects from consideration to close.
A successful digital experience expands your lead generation capabilities by affording your team opportunities for:
Automation
Focused reach
Detailed audience targeting
Heightened visibility
Let's explore each in more detail.
Use automation to prioritize human power
Your time is valuable and thus should be spent on the highest value activities in your sales funnel.
At its simplest, you can use automation to take care of lower-value lead management actions, which usually live at the initial stages of the journey.
These actions often include inputting lead information (i.e. name and contact details like phone number and email) into your customer relationship management system (CRM), assigning leads to the appropriate real estate professionals or marketing team members, sending follow-up emails, and so on.
Tap into online platforms to reach customers at scale
Optimizing the experience by utilizing digital channels also helps you increase your reach. The beauty of online spaces has always been the potential for wide-reaching connection.
But visibility can only get you so far. You need to meet your customers exactly where they are, at the right moment, in the right stage of their buying journey.
Capture qualified leads with specific targeting
Just like expanding reach itself, digital marketing tools allow you to get specific with how you are targeting your leads and prospects.
Filtering out low-quality leads and irrelevant audiences
Targeting real estate buyers and sellers in the regions your business operates in
Filtering age groups to capture people that have varying and/or specific property requirements, such as first-time buyers or retirees
Using keyword research to show up for exactly what your customers are searching for, and even target by interests and affluence
Target conversion actions by visualizing leads in your funnel
Heightened funnel visibility is a crucial part of staying focused and organized. It also makes it much easier to prioritize leads by value (i.e. qualified, unqualified, high-budget, low-budget).
Here's where an effective CRM system that aligns with your needs and goals comes into play.
A CRM gives your team clear indicators of how to provide added value at key stages of the funnel. This way, not only are you retaining and nurturing leads, but you also have a complete understanding of any barriers to purchase (and access to sales and digital marketing enablement tools to combat said barriers or common objections).
Because of this, you're able to tweak and optimize the customer journey over time, your internal processes, activities, and workflows over time to meet changing trends and growing customer demands.
5 steps to leveraging your digital experience for optimal lead generation
We've covered the high-level aspects of how a well-optimized digital experience contributes to effective real estate lead generation.
Now, let's dive deeper into exactly how to find your target audience, use a CRM to optimize lead generation efforts, generate high-quality referrals, capture leads with strategic marketing efforts, and measure and optimize your lead gen strategy.
Step 1: Find the right audiences
In order to really stand out in the marketplace, you need to capture clients in underutilized niches.
As well as thinking about particular locations, available budgets, and explicit interests in real estate or home improvement, consider investigating:
Newly-weds
Recent divorce settlements
Court-ordered sales
Company relocations
Expats
First-time buyers
Retirees
You should aim to have a number of audience segmentations to which you can tailor lead generation approaches.
Your strategy to attract first-time buyers with a budget of $500,000 will be targeted differently than your strategy for partnering with businesses offering relocation assistance to their employees
Why targeting the right audiences is important
Targeting the right audiences not only sets you up to be specific (and personal) with your communications, it can set you apart from others in your field.
A targeted strategy allows you to:
Maximize your marketing spend
Increase conversions at speed
Attain more meaningful results
Find competitive gaps in the market
Create authentic loyalty
Personalize the experience
Here is an example of how this process could look in 5 steps:
You target millennials earning $60,000+ per year who are in a relationship while excluding single millennials and those working part-time.
Because this group is eager to enlist your real estate services, you can shorten the journey to conversion because you don't need to spend time nurturing them through the pipeline.
Therefore, a higher proportion of the click-throughs you receive on your content or paid ads will be relevant and qualified traffic.
By inspecting your audience and filtering out those unlikely to convert, you have an opportunity to focus on niche gaps that may be overlooked by your competitors (thus, gain a competitive advantage).
As a result, the loyalty you create with your customers is authentic because all along the journey they were offered a relevant service they were genuinely interested in (in other words, you met them in the right place, at the right time, and spoke directly to their needs). In turn, they become meaningful advocates for your real estate business and provide quality referrals.
How to find the right audiences
The 'how' in finding the right audiences is largely down to your digital experience transformation.
The best place to start is with your existing client data because that tells you basic information about who your most valuable customers are (like where they're from, their income, their marital status), what their needs and goals are, and their purchase intent.
The challenge now is to find more people like them.
To do that, interrogate where your existing client base came from, how long it took them to convert, and their customer experience journey (both in terms of digital and real life experiences).
Then, approach potential new leads in similar situations that share similar expectations for their user journey.
To find missing data regarding your existing clients, run surveys to fill in the gaps. You can also use surveys to test your hypothesis about prospective clients by asking them about their preferences and pain points—but tread lightly if you take this path. Prospective clients often struggle to answer what they would hypothetically do in a situation, whereas existing clients can easily explain why they did or did not make a decision.
Once you know who you're looking for and where, utilize audience targeting to make sure you're only talking to leads with real potential.
For example, you might learn that 60% of leads coming into your website come from Instagram, and your Instagram audience data shows that most of these people are aged between 28 and 45 and live on the East Coast. Therefore, you can run targeted Instagram ads about new-build homes for sale in New York state.
Expand this type of research and targeting to your online search engine campaigns as well. To do this, undertake keyword research to understand the search terms visitors to both your website and your competitors' sites are using. Make them specific to each campaign.
For example, 'one bedroom city apartment' likely performs for young professionals, whereas 'ground level house with garden' might be more appealing to someone who has recently retired.
Step 2: Use a CRM to optimize lead generation
Take your lead generation strategy to the next level by introducing a CRM. Choose a CRM that integrates with your other digital tools, such as social media, mailing lists, web forms, and website. This allows you to organize all of your different lead generation activities in one place.
A CRM also turns data points into useful insights by shedding light on which activities result in conversions. You're also able to see where every lead is on their journey and make appropriate and personalized decisions for each.
It's important to set up actions that are uniquely important to your business. A click on your advert is good but if the objective is to get a user to download a valuation report, you need to know how often that specific action takes place (so that you can measure outcomes against goals).
That said, do track all of the actions that take place, as you may need to readjust your strategy if your advertising campaign is producing unintended results, for example.
Try a quality CRM system like Salesforce and incorporate key actions into your dashboard including:
Organize, to display all your leads in one place with data on where and how they arrived
Respond, to automate certain responses by way of a web-based chatbot or emails with downloadable resources following contact capture
Track, to show where each lead is on their journey and which actions they took to get there
Funnel, to remind team members to contact leads at key points in their journey
Automate, to take on as many actions as possible
In short, the right CRM is going to guide how your team interacts with your leads and how your marketing department scales lead generation.
Your sales team knows that every day they need to contact anyone who is in the CRM that filled out a booking request from a Facebook property listing. Based on their input, your marketing staff understands that these leads are valuable and reinvests in the platform.
Step 3: Capture leads with real estate marketing
With your CRM in place, it's time to introduce leads into your funnel with real estate marketing.
The key activities for marketing broadly cover:
Driving traffic
Converting traffic
Within each, there are certain tools that need to be optimized.
Driving targeted traffic
The first step is to attract and drive online leads to the next stage of your customer journey. The key online tools that help you achieve this are social media and search marketing.
Social media
Use both organic and paid social media content to target and incentivize targeted audiences to visit your website.
As a result of the work you've done on identifying the right audiences, you'll now know which social media platforms they live on. Focus your energy and budget on these platforms, as this is where your leads are already primed to see your content.
Create actionable CTAs to move traffic from social media to your website, where ideally they will enter your lead generation funnel as qualified leads.
Make sure to be specific and use active language focused on benefits and solutions to their pain points. For example, "Get a home with privacy for under 1 million dollars".
Remember that all social media platforms are not made equal. There are various rules and algorithm preferences in place for each. It's important to be aware of these in order to get the best results from your social media strategy.
The Facebook algorithm prioritizes paid activity; boosting your organic reach only when you invest financially in the platform in the form of Facebook ads
LinkedIn, on the other hand, will punish you for driving traffic off-site and therefore, will diminish the reach of shared links
Instagram meanwhile favors content that people 'save' in terms of engagement and this should inform what you post there
Therefore, to expand on the Facebook algorithm, you'll want to build regular paid advertising into your strategy alongside your organic content. This might look like creating paid monthly brand awareness ads to get people to your profile, while simultaneously sharing organic daily property listings.
Search marketing
Organic SEO and paid search advertising (usually through Google) helps real estate companies attract audiences who are actively looking for their services.
Implement relevant keywords, well-optimized meta descriptions, and page titles on your web pages to improve your organic SEO. The information you provide here helps your content appear in organic search results, indicating to the user that your page has an answer to their query.
Start by auditing your existing on-page SEO. Look at the keywords you have in place, the structure and length of your meta descriptions, and what your current ranking positions are.
It's also important to assess the performance and usability of your website in terms of:
Beyond organic SEO, you can generate more opportunities by paying to capture traffic at the search stage.
With paid search, you can be much more specific than with organic. Instead of targeting just a couple of keywords and one location with on-site SEO, you can have as many campaigns as you like, each targeting a different demographic.
For example, you could have Google Ads campaigns targeting:
Each suburb or city you operate in
Each budget you have listings in
First home buyers
Long-term renters
Short-term renters
Renters with pets
Within these campaigns, you must choose the appropriate search terms by utilizing keyword research tools to understand what potential customers are looking for (rather than making assumptions).
For example, instead of 'long term rental san francisco', use a keyword research tool (such as Google Keyword Planner) to find and incorporate common search terms:

The goal of paid search is to increase performance while driving down costs.
Therefore, choose keywords that average high monthly searches and low to medium competition. Then, develop a bid strategy and optimize your ad copy to grab attention and influence action.
Once your search advertising is up and running smoothly, add in remarketing campaigns to reconnect with people who have visited your site and not yet taken action.
Target people who visited your valuation page by reminding them to take an advantage of a free consultation offer
Converting traffic into leads
Having successfully driven prospects to your website, shift the focus to converting this traffic into leads.
To do this, focus on these three tools:
Landing pages
Automation
Web forms
Landing pages
Landing pages are the mid-point of your conversion funnel. A well-developed landing page should progress your leads towards a final action.
Here is your opportunity to both present more information and gather more data from your leads.
Your landing page should be aligned with the content or advertisement that your prospective buyer interacted with (in order to then arrive at your landing page). The goal is to provide a consistent and seamless experience to keep them on your page and ease them into taking the next action.
For real estate lead generation, consider a landing page that captures email addresses. To do this, use things like:
A subscription to property listings in a particular budget
A download request for a valuation appraisal by suburb
A callback request for more information about a certain property
All these options give you an opportunity to add further value while keeping your leads moving through the funnel.
You can also use landing pages to move leads straight to conversion with a booking form to view a house, or a scheduling tool to organize a valuation of their property.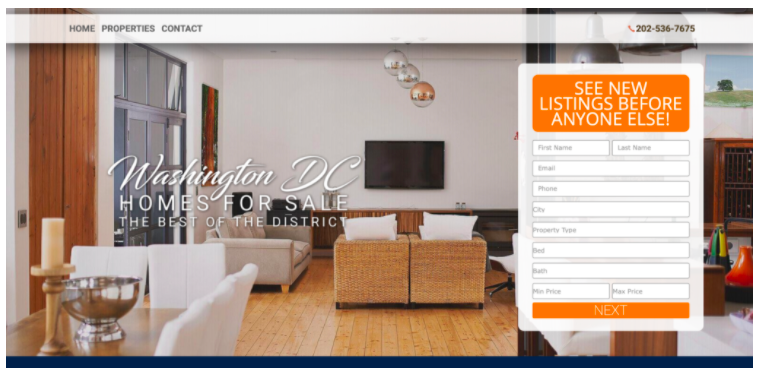 Lead capture web forms
As we've touched on, use lead capture web forms to gather more information from prospects once they arrive on your landing page.
To do this, build web forms into the digital experience in order to populate your CRM with contacts for more touchpoints.
As well as gaining valuable data about your lead sources, you can also use these forms to exclude and filter unqualified leads. Deliberately set up your web forms to attain exactly the kind of information that will benefit your conversion success by adding mandatory tick-boxes such as:
Budget bands ($300,000 – $400,000 and so on)
City preferences (Texas, Chicago, Seattle, etc.)
Intent to sell periods (in the next six months or later)
Property type interests (house, apartment, condo, etc.)
This way, you increase the value of your CRM data, exclude irrelevant leads, and prioritize follow-up communications.
Note: Balance is required here, as filling out forms takes time and effort. As a result, the more you ask up front, the fewer forms will be completed. To get around this, you can make the form multi-step and get contact info up front. Or, use a simple form up front (e.g. only ask for the most critical fields like contact info) and then conduct a follow up with an email and CTA asking them to provide their preferences as a way to continue the conversation.
Chatbots and automation
There's no ignoring the fact that the world no longer runs on strict time frames. As a society, we're increasingly throwing 9-5's out the window, carrying our emails in our pocket, and sometimes our best ideas come at 3 am.
Of course, no one expects your team to work 24/7, but they do expect your business to. By automating your lead generation web forms you can chat to and organize prospects in your sleep.
Automated chatbots can act as a prospect's first port of call to answer simple queries, and also allow you to gather more information to help develop them into a lead.
You can also use automation to deliver lead magnets such as PDF resources or video content once a lead has entered their contact information for capture by your CRM.
Used effectively, this can help you to:
Answer simple questions 24/7, ensuring you don't lose valuable leads during off-hours
Move prospects along the funnel by providing key resources with limited delay
Attain greater insight into who your target audience is by capturing data about their needs and intent
As well as being available 24/7, chatbots improve the quality of your customer service by allowing you to respond immediately to simple requests.
It's not just slow website response times that damage lead generation, slow contact replies are detrimental, too.
Step 4: Generate referrals through customer retention
Customer retention in the real estate market is unique. Since most property buyers won't be in a position to purchase again in the near future, customer loyalty translates into referrals and new leads via word-of-mouth recommendations.
However, while real estate retention practices are focused on generating new leads, there are circumstances where you can also influence repeat buying or selling behavior.
For example, developing partnerships with companies that have a high intake of relocated employees, or working with landlords and property developers who look to regularly update their portfolios.
Email lists and content
Your contact lists will be built within your CRM. These can be segmented into various email lists such as:
Buyers
Sellers
Homeowners
Property developers
Landlords
These segments can be filtered even further by adding notes on recency, suburb, and budget.
Use these lists to nurture existing leads who haven't taken action, revisit those that may be in a position to act again, and encourage referrals. The goal of this outreach is to remain top of mind and expand your sphere of influence.
For example, you can email open house visitors at planned intervals to ask them if they have further questions, provide floor plans, and remind them of auction dates.
Also, make sure that your email content adds unique value to encourage a high engagement rate.
Customer loyalty leads to high-quality referrals
The best advertising is a happy customer as people trust the recommendations of their friends and family.
Importantly, this varies by generation. The younger the buyer, the more likely they are to enlist a referral from a friend, relative, or neighbor. Conversely, older buyers favor a real estate agent that has a great reputation more than younger buyers do.
You can use generational insights like these to segment your target audience and skew your copy to match their needs and desires.
Ultimately, you can and should utilize your existing customers to generate new leads. Use both email and social media to:
Ask customers to write online reviews of your service after closing a sale (to generate social proof)
Incentivize them to refer friends and family, such as with a home retail voucher to furnish their new home
Create a simple one-pager or electronic flyer that they can easily share with others
In essence, if you make it easy for people to refer their network to your business, you'll be more likely to gain qualified leads through referrals.
Step 5: Measure and improve with data and analytics
The final step is to use data and analytics to optimize and refine your processes. To ensure a consistent, seamless digital experience, you must monitor the analytics for all the tools that we've discussed.
Used intelligently, analytics allow you to:
See how audiences are interacting with your content and conduct optimization campaigns as engagement begins to fall off
Spot gaps and opportunities in your existing processes and workflows and make necessary changes
Bake the practice of continual improvement into your company culture
There are a range of tools available to help you do this:
Google Analytics provides insights into how leads are using your website and where they're arriving from
Your CRM analytics can give detailed data into the customer journey and key conversion rates
Your social media statistics make it easy to monitor the performance of traffic-driving campaigns
When looking at your analytics, take care to notice:
If your real customers align with your target audience research (and if not, where the gaps are)
The impressions and CTR for your content and ads
How many steps your customers take before a conversion
Where leads and prospects are dropping off the funnel
Which platforms work best for your business
Key takeaways
A well-optimized lead generation strategy, driven by a digital experience that centers the customer journey, is the best way to capture qualified real estate leads and close valuable deals.
Understanding and segmenting your audiences so that you can focus on groups that are most likely to convert
Organizing leads and automating tasks with a dedicated CRM to reduce friction and open up lines of communication
Driving traffic to your website and landing pages through strategic paid and organic campaigns
Nurturing relationships to generate high-quality referrals
Consistently monitoring and improving activities with the help of data and analytics
With a well-oiled system in place, these strategies work on a cyclical basis to produce year-on-year leads.
SUBSCRIBE TO OUR BLOG DIGEST!
Submit this form to receive a monthly, curated digest of our blogs, filled with helpful thought leadership, innovative trends and industry insights, all delivered straight to your inbox.