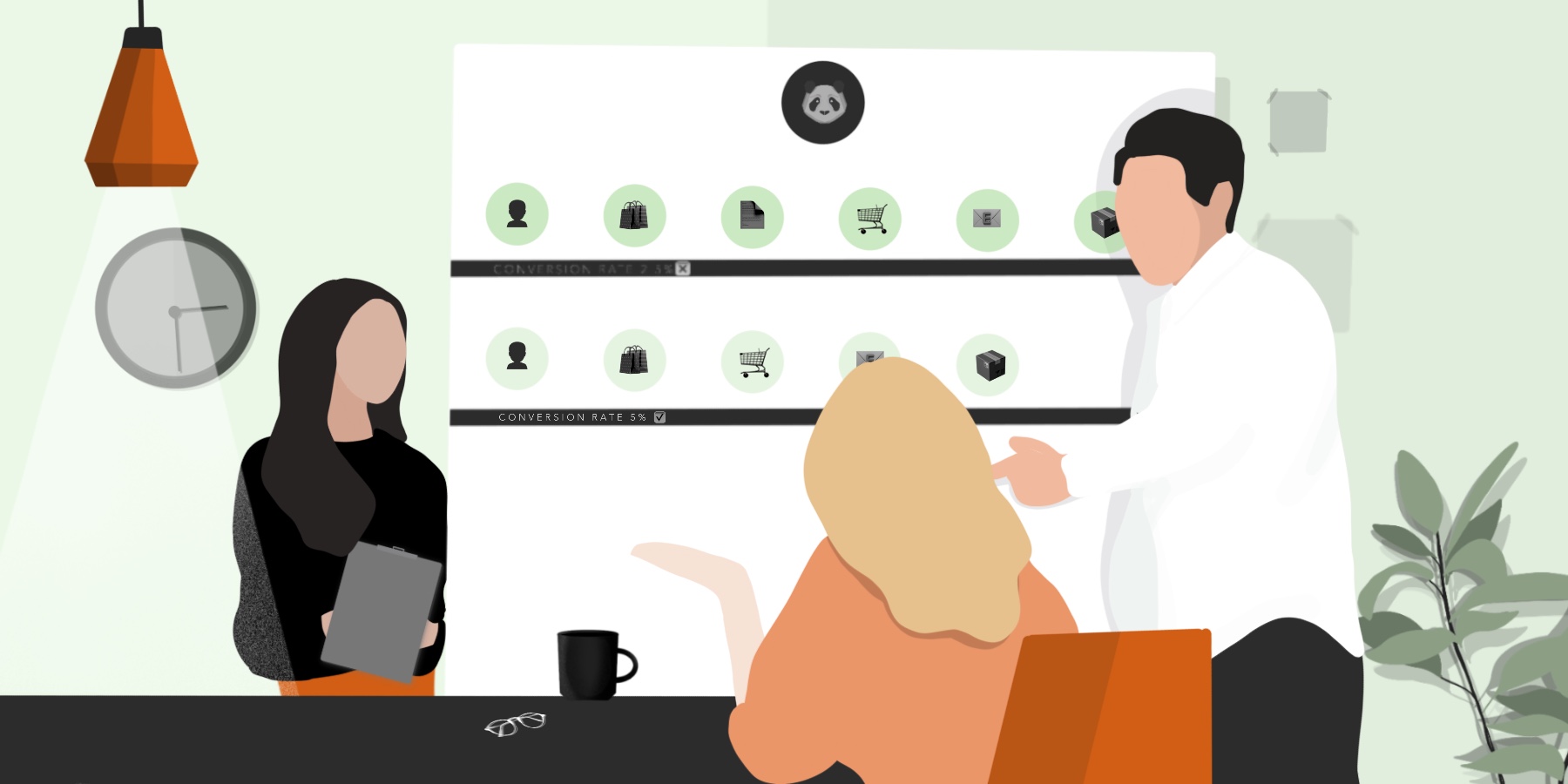 The Customer Journey Optimization Process: Tips, Steps, and Strategies
Customer journey optimization is designed to help you capture more leads, maximize revenue, and improve customer satisfaction.
To get it right, you need to optimize every touchpoint along the customer journey, from awareness to purchase through to advocacy.
This is no easy feat, given the digital customer journey is no longer "linear"—touchpoints are everywhere (websites, social media, forums, comment sections, instant messages, reviews, etc.).
Additionally, today's consumers increasingly shop in "micromoments," or whenever the mood strikes.
The best way to capture these "always-on" consumers across a sea of channels is to create tailored messaging that speaks to how they feel at every potential moment they interact with your brand.
To do this, you need to run extensive research to understand the context in which your audience shops so you can grab their attention and provide a convenient experience that simplifies their life.
In this article, I'll help you understand why you need to regularly assess and improve your customer journey. Then, I'll walk you through nine tried-and-tested steps for customer journey optimization.
Table of contents
The benefits of customer journey optimization
Customer journey optimization involves regularly identifying, mapping, and optimizing key customer interactions to improve the end-to-end customer experience.
The goal is for marketers to optimize their touchpoints so that their solution is top-of-mind, easy to find, and simple to interact with at every stage of the journey.
For example, a commercial real estate agency might learn through their customer research that their website visitors are bouncing off their website's "Contact" page. Using this information, they can run tests to optimize their messaging, reduce form fields, or conduct further research to uncover what seems to be stopping people from submitting inquiries.
The agency might also uncover that their ideal customers ask a lot of questions on forum sites like Quora. Using this information, they might allocate resources to answering questions and point prospects at an optimized landing page (such as an FAQ page on their website).
The point is to make the digital experience so easy for your customers, there's nothing to stop them from doing business with you.
Here are a few more ways customer journey optimization can help you improve the overall digital experience:
Lead re-capturing. Retargeting helps you push previously engaged customers over the finish line. For example, try targeting shoppers that have abandoned their carts and make it easier for them to complete their purchase.
Customer segmentation. Segmenting buyer personas allows you to create content that speaks to each cohort's specific needs. Relevant, customer-centric messaging is more likely to resonate and, in turn, drive action (e.g., clicking on a CTA to learn more).
Increased "micromoment" capture. This requires a dynamic, multi-channel approach to examining your touchpoints. For example, if data tells you that a certain group of your audience spends time on social media in the afternoons, a timely targeted ad promoting your real estate business, for example, could be what triggers them to click and start a conversation.
Increased revenue. Think of the customer journey optimization process as a cycle of continuous improvements that add up to major bottom line results. The better your digital customer experience, the more likely people will convert and remain loyal customers beyond the initial purchase.
Top Tip: Done right, customer journey optimization allows you to identify friction points so you can improve the digital journey. To uncover those data points, you need transparent insights into every touchpoint from awareness to consideration and beyond. Here's how to gather the key data that will drive your optimization 🐼
The elements of the customer journey optimization process
The first step in optimizing your customer's digital journey is to define and map every digital touchpoint.
Consider this the research stage. At this point, you'll evaluate what your customers are doing, including:
Their most common touchpoints with your brand
Where things appear to be going wrong, or where you're missing conversions
Elements in the customer journey that are adding friction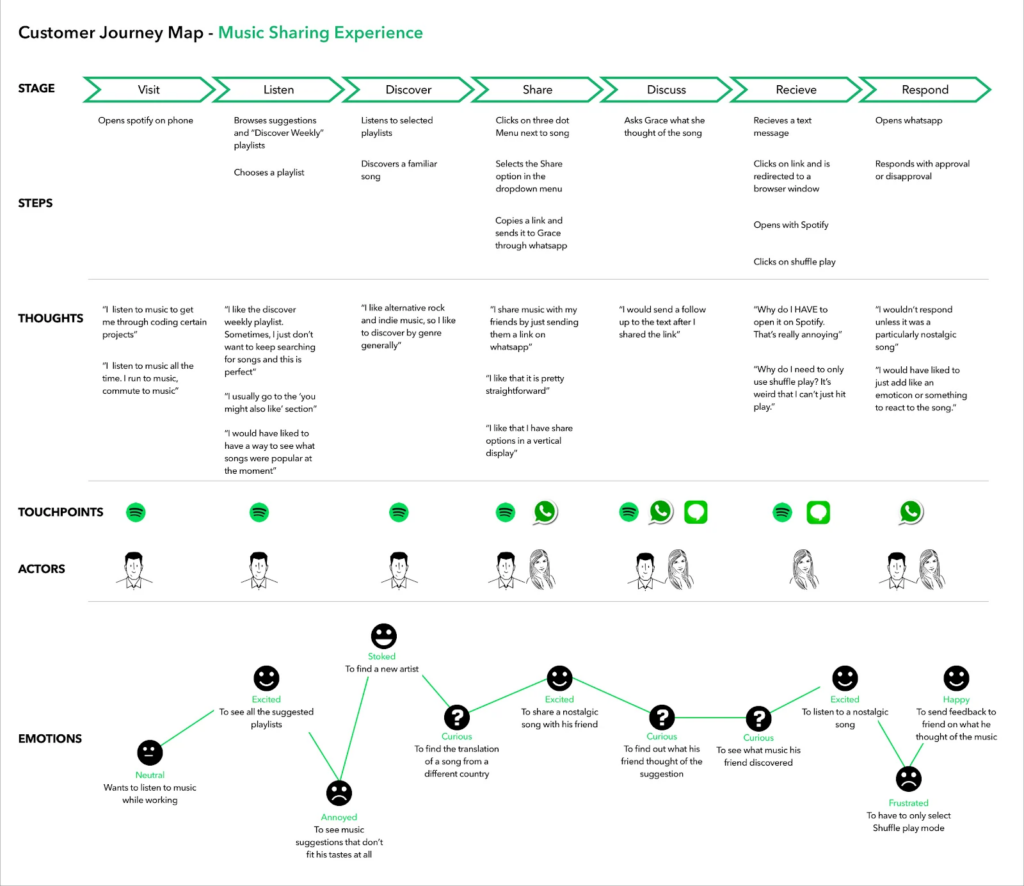 They further broke down these seven stages (visit, listen, discover, share, discuss, receive, respond) into five different elements:
Steps. These are the actions customers take at each stage. For example, a step at the first "Visit" stage would simply be opening the Spotify app on your phone. Steps are often the easiest part of any customer journey to define, as they're simple to predict and track (there's really only a few ways a customer can open up Spotify).
Thoughts. These are more difficult to define, and represent the reason behind taking a step. For Spotify, a user may think, "I love the curated playlists because they're a personalized experience." This thought would align with the "Listening" stage as it's what triggers them to enter that part of their journey.
Touchpoints. Spotify defines these as the interactions people have with the platform and their network throughout the listening journey. After a person chooses a song and begins "Listening," for example, they may share it with a friend outside of the app to "Discuss." This conversation begins a back and forth feedback loop that ends with "Receive" and "Respond." Defining these touchpoints is key, as they help you understand how people interact with your product or service so you can skew your messaging to support these journeys.
Actors. To Spotify, these are the people that talk to each other about their experiences at the latter end of the listening journey. For you, actors represent anybody that interacts with your product or service along the way. Defining actors helps provide more insights into every other element, which in turn gives you ideas around how to position and message your communications. For example, if people interact with each other at the beginning of their journey, and these interactions prove pivotal to continued engagement, you could curate messaging, incentivizing people to share and talk in the Awareness stage of the customer journey.
Emotions. These are the reasons that drive people to progress through the listening journey, in Spotify's case. For example, they may choose to "Visit" Spotify because they're eager to listen to music while working and later want to "Discuss" a song with a friend to see if they like it too. Similar to behavior, understanding emotional drivers helps you meet the customer where they are, with content that resonates and inspires action.
Organizing the customer journey into steps and stages helped Spotify isolate the reasons customers engage at every touchpoint.
Here's how you can do the same across four main customer journey stages.
1. Awareness
The first stage of customer journey optimization is awareness. This is when the customer hasn't heard of you, or perhaps has heard of you and maybe even engaged with an early touchpoint (like visiting your website) but doesn't necessarily show strong buyer intent yet.
In the digital world, this can be an incredibly complex stage. With access to your competitors at the tips of their fingers, they may be vetting your business against others. Your job in the awareness stage is to capture their attention—and then hold it.
Those who are ready to buy may quickly move through the next steps by initiating a checkout or contacting your business straight away. For those who aren't yet in the decision-making stage, you'll want to focus on helping your audience recognize and recall your brand.
Here are three ways to optimize this stage of the customer journey:
Connection. Use your messaging to establish a connection with your audience. Let them know early on in their contact with your brand exactly how you solve their problem.
Consistency. Make sure your brand is consistent across all touchpoints (your social media bios, your landing pages, even your email footers). This will help your audience to recognize and enjoy your brand in multiple places.
Content. If your audience is in the awareness stage, they may not be ready to buy from you just yet. Position yourself as an industry expert with regular articles answering their unique problems, and your target audience will steadily become more aware of you.
2. Consideration
The customer engagement process has begun. At this point, customers might be walking down the purchasing path, even if they're not quite there yet. Think of the consideration stage as the point when the customer thinks of your product or service as a potential purchase.
These are your customers watching your demo videos and engaging with your newsletters. They've already made the decision to engage with you. Now, they're wondering if your solution is right for them.
Here are some examples of where you can optimize the journey at the consideration stage:
Service. Though many think of customer service as a post-purchase department, excellent, seamless customer support is critical before the purchasing stage, too. Optimize this stage of the journey to answer customer questions quickly, so you catch them in the moment of need and plant the seeds of a lasting relationship.
Social responsibility. Around 55% of customers will pay extra to shop with companies that are dedicated to having positive social and environmental impacts. If you've identified that this is important to your customers, one way to optimize at this stage of the journey is to demonstrate how you meet corporate social responsibility (CSR) goals through your email marketing, website banners, or dedicated landing pages.
Reviews. Social proof is a powerful influencer. Use reviews, case studies, and video testimonials to show how you've helped similar customers solve their problem.
3. Decision
The purchase is a critical point in the customer lifecycle. It's when a prospect converts into a customer—and someone who can potentially have a relationship with your business for years down the line.
To help this happen, you need to stay out of your own way. Reduce all friction in this stage to help customers go from A to B as easily as possible.
For example, Amazon's "1-Click" technology eliminates several stages of the check-out process for customers who have opted-in. It allows customers who have decided they want a product to initiate the purchase immediately.
There are many ways to optimize this stage of the customer journey, including:
Reducing check-out steps. Customers in the decision phase don't want to go through several stages to make a purchase. Help them give you their payment details quickly by eliminating unnecessary steps.
Placing signup or login screens after checkout. If your service requires a login, place this after the checkout can speed things along.
Including security badges. Sometimes customers hesitate to do business with new brands, especially when they aren't sure how you'll handle their sensitive payment information. Providing payment protection badges and links to your policies can help alleviate some of this worry.
4. Retention and advocacy
Once your prospect becomes a customer, you'll want to focus on nurturing that relationship to keep them coming back and encourage them to share their positive experiences.
To focus on retention, consider what and how you are communicating to customers immediately after they've placed an order. Depending on your product or service, how often do you reach out to them with new products and feature updates in the future, and how do you tailor that messaging to match their first experience with you?
If a customer has completed a sale and you've invested in the retention stage, you're in a great position to leverage their delight (and create loyal brand advocates).
Respectfully approach customers for reviews, social proof, and star ratings. Consider how you can get your customers to work for you without it feeling like work. If your customer experience has been stellar, they'll likely be willing to go the extra mile for your business.
There are some individual touchpoints after leaving the checkout page that are key to optimize in this stage, such as:
Thank You pages
Order confirmation emails
Shipping confirmation emails
The "unboxing experience"
Post-purchase check-ins
Product reviews
Engaging customers with a referral program
You may not engage a customer at all of these touchpoints, but any time you please a customer can be a unique opportunity to hold their loyalty down the line.
9 steps for customer journey optimization
Now that you know why customer journey optimization is important and what it looks like from a high level, it's time to dig into your unique customer journey.
Follow these nine steps to create a customer journey that delights your buyers throughout their contact with your brand.
Step #1: Assess your current customer journey
Your customers' journey may look entirely different to another business's journey. To start optimizing your own customer journey, you need data on what that currently looks like. This is the step in which you'll gather customer data using a variety of tools, including:
User surveys
Customer interviews
Social media interactions, such as Twitter or LinkedIn
Experience analytics, such as session recordings and heatmaps
Website traffic analytics, such as bounce, conversion, and cart abandonment rates
Data collection can mean everything from secondhand data (customer journey analytics that examines customer behavior on your website) to direct questions you ask your customers.
Let's say, for example, you're a boutique hotel chain. You'll want to gather data on the types of customers who stay at your hotels. You can do this through user surveys after the booking online, or one-to-one customer interviews with current, past, or regular guests.
It's best not to rely on any single tactic. Instead, unify intel from each of the five data gathering methods above to build a comprehensive view of who your customers are and what gets them over the line to the checkout page.
Step #2: Identify bottlenecks and areas for improvement
Once you've mapped out your own customer journey, you'll want to identify the key points of friction. Where do most of your prospects step away from their decision to purchase?
Returning to the hotel chain again, let's say you identify a lot of customers as one-off customers. They come, they stay, they report having a nice time in your survey, but they never return. You have identified a potential area for improvement (getting more customers to return).
Why is this happening? Perhaps your hotel is in a holiday destination that doesn't attract repeat customers, and guests need a push to return (e.g., discounts on hotel rooms, group stay offers, or even partnerships with other local amenities, like spas).
Step #3: Set objectives based on your observations
After you've identified your friction points (and why they're happening), you can now set specific, measurable goals to address them.
SMART goals are a popular tool to put realistic actions in place. According to the methodology's creator, each goal must be:
Specific (simple, sensible, significant)
Measurable (meaningful, motivating)
Attainable (agreed, attainable)
Realistic (reasonable, realistic and resourced, results-based)
Time-bound (time-based, time-limited, time/cost limited, timely, time-sensitive)
The hotel chain above might decide they're going to track returning customers over the next two quarters. One cohort might receive a discount via email that they can redeem if they decide to rebook within the next month. Another cohort might serve as a control group.
Step #4: Map your ideal customer journey
You've audited your current customer journey and identified friction points for your target audience. Now, it's time to modify your current journey with those pain points and customer desires in mind. This will help you to create the customer journey that will capture and convert your ideal customers.
Some businesses might struggle with the step above, especially if they aren't able to collect accurate customer data. In this case, you can construct an ideal customer journey. What do you want it to look like when a customer has a completely satisfactory experience? What steps can you eliminate?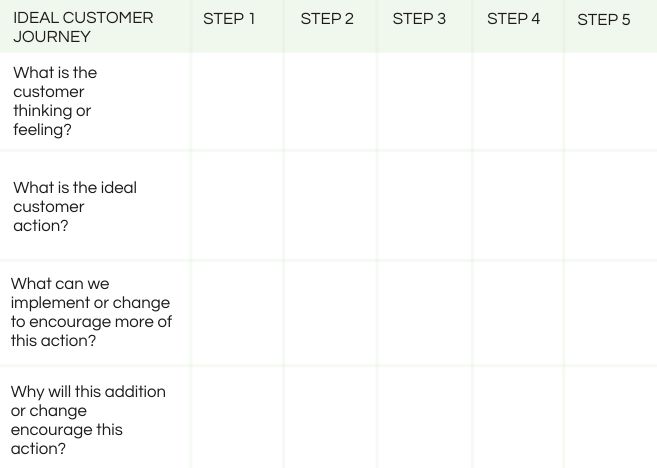 If we take our hotel chain example, they want website visitors to book a hotel or spa stay.

But, they may be neglecting to cater to gift-shoppers. What if you want to book a surprise stay for a loved one? You shouldn't have to wait until the checkout page to make this distinction.
To make this easy, the hotel may consider adding a "Gift Vouchers" option below the main booking feature to serve those buying spa breaks and holidays for their loved ones. They can then browse the range of available offers and decide whether to pick a date, or let the lucky recipients choose themselves.
Step #5: Create a roadmap of tactics you can build
After mapping your ideal journey, consider a roadmap of tactics you'll use to execute your strategy.
What order should these tactics be in to optimize your customer journey? What data will you need to gather to optimize these steps? Are there any current existing technology gaps that you'd need to begin optimizing?
The hotel chain's plan to email past guests with their offer to rebook will take (at the very least):
An email marketing platform
A copywriter
Resources to analyze the data from the experiment
Step #6: Bring the relevant departments on board
Once you've formed your plan and gathered your resources, you'll need the various teams involved to be on the same page. Reduce silos by building new project teams that incorporate leadership from different departments.
Try to avoid "segmenting" different parts of this customer journey to different departments, as this can hinder communication and add unnecessary friction. Instead, unite different teams by having them each focus on similar KPIs for measurable, specific results.
Step #7: Start experimenting and implementing
With your teams implementing the next steps, now's the time to set up A/B testing. This is a powerful step in optimizing your customer journey. Small changes can generate big leaps toward goals.
When we worked with Viceroy Hotels and Resorts, we suggested implementing testing. We began with a simple button copy test, which weighed two call-to-action buttons against each other. This included the following options:
A: Reserve (this was the existing copy and acted as the "control")
B: Start Your Reservation
C: Make Your Reservation
D: Reserve Your Room
E: Book Your Room
From this iteration, "Book Your Room" won.
But we didn't stop there. We then pitted this copy against another hypothesis: "Check Availability." The new button copy won by such a large margin, it increased room reservations by $30,000 each month. This is the power of testing even the smallest variables at each customer touchpoint.
Step #8: Derive key insights from your data
Now that you've collected your data, it's time to ask: "Where are the opportunities for improvement?"
You can gather insights from sources like:
Demographics
Purchase history
Location
How they interact with you (e.g., on a tablet, mobile, or desktop)
We used that data to decrease marketing spend and increase conversions by 67%.
Step #9: Adopt an omnichannel strategy
About 73% of customers use multiple channels during their journey. If you want to maximize your reach, target customers across multiple (relevant) channels that your target customer uses.
It's also important to ask what your customers are doing on each channel because intent isn't universal.
For example, a customer might find your landing page through a search query, but they may not be ready to buy yet. Knowing this can help you create informational content designed to capture this kind of traffic and mold them into potential customers.
Key takeaways
The customer journey is essentially the story of your ideal customer personas discovering your brand, making a purchase, and becoming loyal advocates. Optimizing the customer journey means taking the steps to make that story a happy one.
The best businesses are willing to conduct self-examination. They look honestly at their touchpoints across multiple channels and ask where the customer journey can be improved. What's causing the bottlenecks? What are the pain points introducing friction? Then, those companies test new solutions until they find those that resonate best with their customers.
The customer journey optimization process is ongoing and never quite finished. Implement habits from the steps above and make it a regular part of your marketing strategy to strengthen your bottom line.
SUBSCRIBE TO OUR BLOG DIGEST!
Submit this form to receive a monthly, curated digest of our blogs, filled with helpful thought leadership, innovative trends and industry insights, all delivered straight to your inbox.