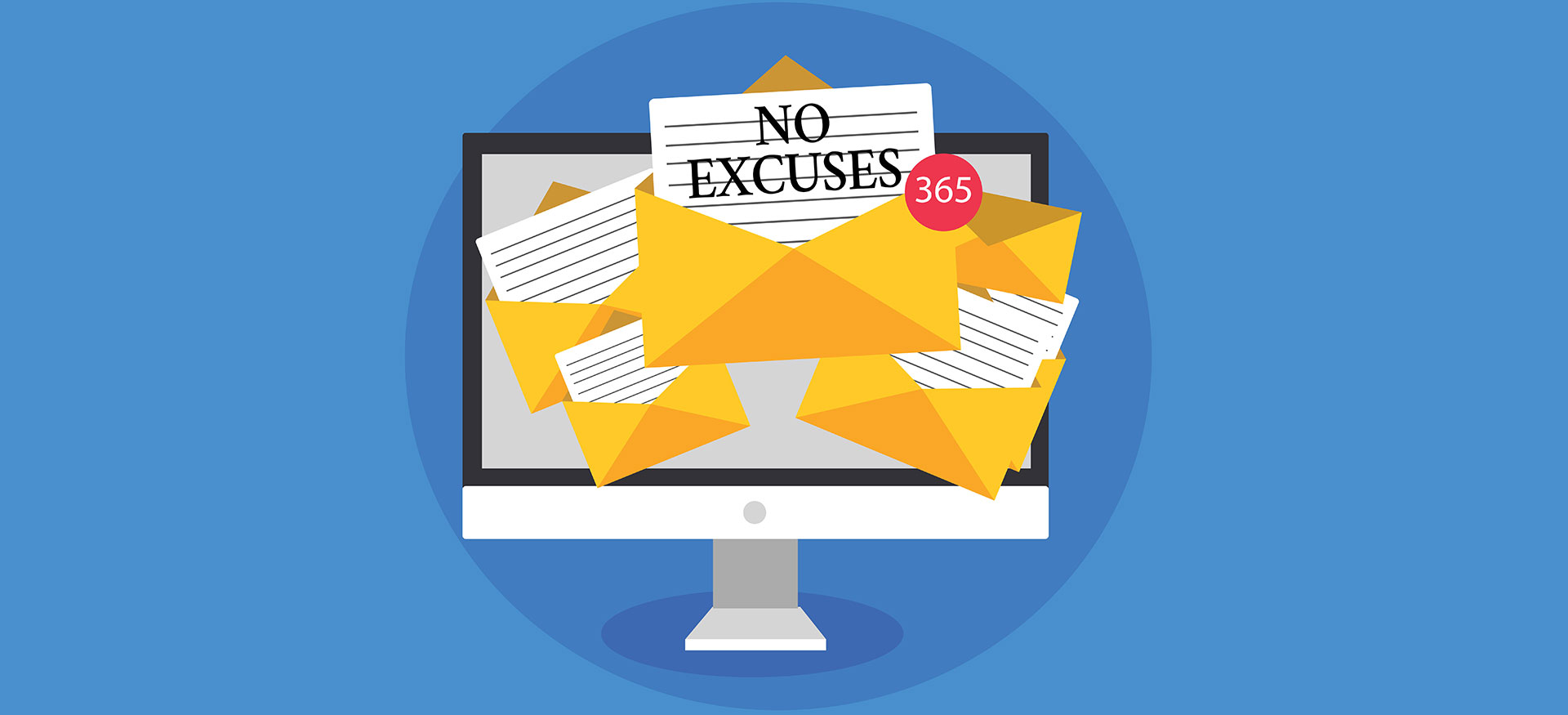 5 Components to an Email Apology
Don't worry, it's happened to the best of us.
You sent a marketing email too soon and left placeholder copy in the subject line—you know, the dreaded "Subject Line Goes Here." Your invitations had the wrong date on them. Your team sent a members-only promotion—to non-members. Your automation went haywire and sent seven simultaneous, identical emails to everyone on your list (yes, it's happened). The deals you sent your subscribers expired last week. Every single email was addressed to "Dear [First Name]."
The horror!
Even the best laid email plans can come undone at the click of a button. Email is dynamic, complex, and fast—it's nearly impossible to avoid mistakes completely. Truthfully, the results of most misfired emails are rarely catastrophic. Sometimes, these mistakes can even be an opportunity for a real connection with your customers. Regardless, your regret will be palpable. Nothing like a good reminder to stick to an email marketing checklist and protocol before every send. Download a copy of our email marketing checklist below!
When to Send an Apology
Saying you're sorry can go a long way toward winning back trust. In addition to an apology, sometimes a correction is urgently required. You might even feel so badly about the rogue email that you want to offer your customers a short-term discount on your products or services, just to ease the pain.
However, not every flub warrants an apology. Drawing too much attention to the error might only frustrate your subscribers more. If your error is quite clearly a mistake—e.g., you left [Test] in the subject line, or your image caption read "image caption here"—definitely move on. Your subscribers already did.
But if the possible ramifications have you weak in the knees, then you probably need to craft a follow-up. Send an apology email (within 24 hours, if possible!) when:
You need to correct an important fact
Your customers may have concerns about security
Something about the email impedes a user to act (expired coupons, bad links, etc.)
Mistaken content might make subscribers think they signed up for the wrong list
The glitch may construe the email as spam
Your recipients are possibly offended by the content
In these cases, your subscribers definitely deserve some reassurances.
5 Components of a Well-Crafted Apology
From my work with marketers to my experiences as a consumer, I've seen lots of occasions for apologies as well as both superb and awful executions. Here are my suggestions for a crafting a thoughtful follow-up to an errant email:
Admit the mistake. Address the fact that your consumer may have received an email from you that was sent in or contains an error. Use a tone that is in keeping with your brand voice. If that means humor is appropriate, by all means keep the tone light. "Our server had a rough day" or, "Oops, let's pretend that didn't happen." Laughing at yourself gives subscribers a reason to forgive you. If your brand voice is more serious, or the mistake caused inconvenience of offense, don't make light of it. Use good judgment here so you're not adding gasoline to the fire.
Take responsibility for the mistake and reassure your audience. "We care about our customers above all else and are taking steps to ensure this doesn't happen again." If the error might have consumers concerned that their data was compromised in any way, be sure to address that right away.
Remind them why they have opted in. You may want to take this opportunity to remind your customers why they are on your mailing list in the first place, and what they should expect to receive in the future. "We hope you'll continue to enjoy our newsletters and receive the latest product updates, promotions and more." This will help mitigate opt-outs.
One more apology. Round out your letter with a little more humility. "Again, we're sorry for this inconvenience."
Close with sincerity. Anything you can do to make the letter feel genuine and less like another mass email that started the problem to begin with, the better. Customize and personalize to a degree that makes sense but without missing the window. Again, try to send this apology within 24-hours to help prevent further confusion and attrition.
You may be pleasantly delighted by the results; your apology will likely be met with strong open rates. After all, who doesn't love reading an apology or (sadly) delight in the mistakes of others! But don't get greedy and start planning small mistakes for the sole purpose of apologizing for them. Some brands fabricate disasters just for the bump in response, and obviously that's a little too sketchy for us pandas. As is true with many marketing tactics, the ends don't always justify the means.
While it's hard to avoid all possible marketing mistakes, you can do your best to prepare for and address them thoughtfully when they happen. There's nothing like a good (and embarrassing) mistake to remind you to enlist a professional proofreader, to test and scan every email and to double check your lists and campaigns. When it comes to marketing blunders, prevention is the best medicine.
Key Takeaways
Even the best laid email plans can come undone at the click of a button. Email is dynamic, complex, and fast—it's nearly impossible to avoid mistakes completely.
Sometimes, these mistakes can even be an opportunity for a real connection with your customers.
Apology emails are always warranted—or even a good idea. Don't call out harmless mistakes that don't effect subscribers action.
Time is of the essence: Send an apology email within 24 hours, if possible
In your email, admit the mistake, offer necessary reassurances, remind your audience why they subscribed in the first place, fall on your sword and close with sincerity.
SUBSCRIBE TO OUR BLOG DIGEST!
Submit this form to receive a monthly, curated digest of our blogs, filled with helpful thought leadership, innovative trends and industry insights, all delivered straight to your inbox.